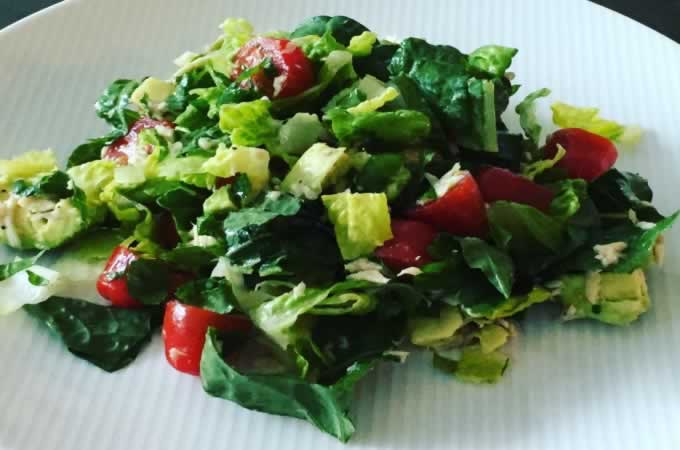 Being able to make my own lunch every day is one of the benefits of working from home, and when I can afford the time, I take the opportunity to fill my creative bucket and experiment with different recipes that I know my *fickle family* may not appreciate.  I stumbled upon an Avocado Tuna Salad recipe in a borrowed cookbook from Michael Smith.  At first I didn't think much of it, but when I put it all together in a bowl, the flavour was outstanding! The only variation from the original recipe is the addition of lettuce.  Sometimes a salad just isn't a salad without that crunch.
I've made this amazing avocado tuna salad a few times, making some tweaks and variations here and there, but it never tasted as good as when I followed the recipe.  I think it has something to do with the order of ingredients, how the lemon sits on the food, and how the flavours hit your tastebuds one by one.  Okay, I'm probably going too far here…..My point is, make it exactly as is at first.  After that, you can do what you want 🙂
FOR MORE GREAT TIPS AND RECIPES, PLEASE LIKE/FOLLOW ME ON FACEBOOK OR INSTAGRAM.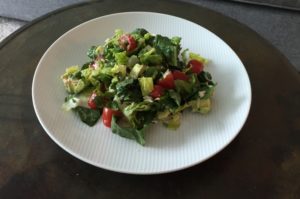 Print
Avocado Tuna Salad
Yield 2 servings
This recipe was adapted from one of Michael Smith's cookbooks, developed during his Iron Chef competition.
Ingredients
1 can of tuna, flaked and packed in water
2 cups lettuce (I like romaine, but you can use whatever you have on hand)
2 small avocados (or 1 large), chopped
1 lemon - juice AND zest
1 green onion, thinly sliced
1/2 cup cherry tomatoes, halved
2 Tbsp olive oil (your best)
1/4 cup fresh parsley, chopped
salt and pepper
Instructions
Lightly drain tuna and toss into a bowl to flake.  
Add the lettuce, avocados, green onion, tomatoes and parsley.
Add the lemon zest and toss lightly.
Squeeze the lemon juice directly over the salad, then drizzle the olive oil.
Add salt and pepper to taste.  
Gently toss again.
Serve and enjoy!
Notes
Feel free to add other vegetables that you have on hand, like cucumbers.
Courses Salad
Cuisine Westcoast
Like this post and want to see more?  Please follow me on  FACEBOOK or INSTAGRAM or PINTEREST and let's get this relationship started!