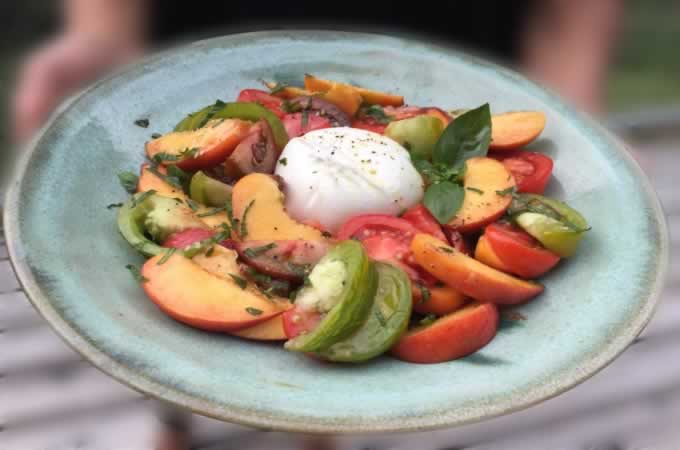 Oh sweet summer, and the beautiful food you bring with you.  Like this Burrata with Heirloom Tomatoes, Peaches and Basil appetizer.  I was introduced to this dish by my good friend Amber who credits her sister in law with introducing her to this flavour masterpiece. When I think about this appetizer, I think about the height of summer, sitting on the deck in the warm sunshine with good friends and a cold and crisp bottle of rosé. Tomatoes, basil and burrata are a common combination, but the addition of the ripe, sweet peaches takes this dish to the next level.
For more great recipes, tips and inspiration follow me on FACEBOOK OR INSTAGRAM and let's get this relationship started!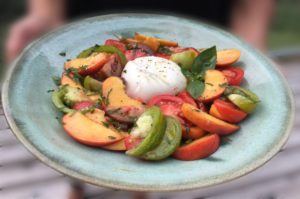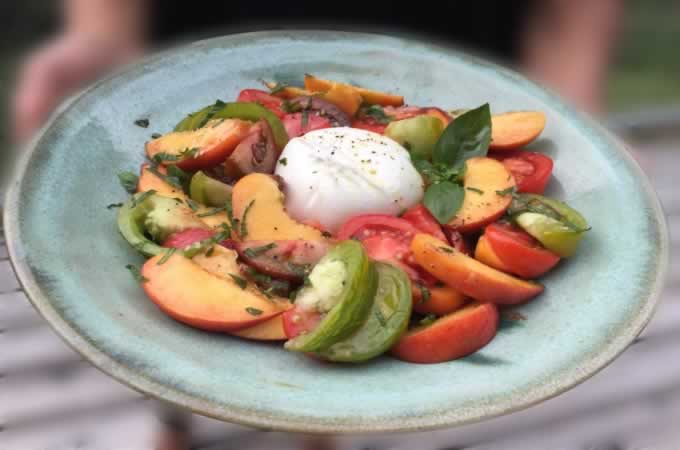 Print
Burrata with Heirloom Tomatoes, Peaches and Basil
Tomatoes, peaches and fresh basil come alive with a little drizzle of olive oil and some finishing Maldon salt. Serve this dish as a salad, or scoop it onto lightly toasted Italian bread for a family style appetizer.  
Ingredients
3  heirloom tomatoes (variety of colours), sliced into wedges
2 perfectly ripe peaches, sliced into wedges
1/4 cup fresh basil, sliced into ribbons
200 grams burrata cheese
healthy drizzle of good olive oil
drizzle of balsamic vinegar
Maldon flaked salt and freshly cracked pepper
1 loaf Italian bread
Instructions
Slice bread into 1/4 inch pieces, lightly brush with olive oil and toast in a 375 degree oven until crisp but not brown. 
Combine tomatoes, peaches and basil into a medium size bowl.
Add a splash of  olive oil and balsamic vinegar and season with salt and pepper to taste.
To assemble:
Place the burrata in the centre of a serving platter.
Scoop the tomato and peach mixture around the cheese.
Put a few drops of balsamic vinegar onto the fruit.
Drizzle the cheese with some olive oil and sprinkle it with some flaked salt and freshly cracked pepper. Garnish with basil. 
Serve family style with the bread.  
Courses Appetizer
Cuisine Westcoast