I have found cookie heaven! Last week I was in search of a new cake like cookie recipe that I could use to make homemade ice cream sandwiches (an absolute disastrous fail btw…but the cookies were amazing!) While searching online and in pinterest I was drawn in by the images of these ooey-gooey morsels of goodness.
What makes a cake like cookie so good is that it is slightly crisp on the outside, but the inside retains a soft, moist and chewy texture.
Have you heard of Modern Honey? You need to check it out! Melissa has developed a recipe for copycat Levain Bakery Chocolate Chip Crush Cookies that are simply to die for. I have never heard of this bakery, although it will be on my hit list next time I'm in New York City for sure!
The true copycat version of this cake like cookie is massive, so I adjusted my scoop size and cooking time to make a more modest size bite.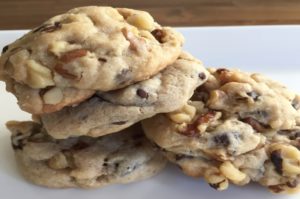 Print
The Best Cake Like Chocolate Chip Cookie
Yield 24
An amazing cake-like chocolate chip cookie from ModernHoney.com.
Ingredients
1 c COLD butter, cut into ½ inch cubes
1 c brown sugar
½ c sugar
2 eggs
1½ c cake flour
1½ c all purpose flour
1 t cornstarch
¾ t baking soda
¾ t salt
2 c semi sweet or dark chocolate chips
2 c chopped walnuts*
Instructions
Preheat oven to 410F. Yes - 410 degrees F!
Cream COLD butter and sugars in a large bowl or stand mixer until fluffy, around 4 minutes.
Add in eggs, mixing well after each one.
Add in flours, cornstarch, baking soda and salt and mix until just combined.
Stir in chocolate chips and chopped up walnuts.
On a large sheet pan lightly greased or lined with parchment paper, scoop into roughly 1.5 inch balls drop onto sheet. On an extra large sheet pan, I can usually fit 12.
Bake until golden brown, roughly 6-8 minutes.
Let rest for about 10 minutes in order for them to set.
Notes
If you need to make these cookies school friendly (or nut allergy friendly) keep out the walnuts. They taste great, but they certainly don't look as appealing. The added texture of the nuts is what makes them look so good!
Cuisine Cookies
If you like to bake but haven't been to Melissa's site I highly recommend checking her out. She has got some serious talent – proven not only by the success of these cookies, but also her finalist rankings in some pretty big competitions such as the Barnes and Noble Cookie Cookbook Bake-Off and the Pillsbury Bake-Off (twice!). I haven't tried any of her non-cookie recipes yet, but I look forward to doing so soon!
*FICKLE FAMILY TIP* Some kids just don't like walnuts.  I like to make these half and half.  I'll scoop out half the batter before adding the nuts (half the amount of course).   The cookies still taste great without the nuts, but they certainly don't look as good!
In case you need your confidence built up – check out my massive ice cream sandwich fail.  I'm still not sure why, on a cool Vancouver spring day, my ice cream would not re-freeze after 7 hours in the deep freeze.  Oh well, luckily the cookies were fancy enough to pass as a great dessert at the dinner party we were making them for!
For more sweet inspiration check out my other baking and dessert picks.