One of the most requested weekend breakfast dish in our house is the ever-popular Dutch Babies.  I have searched numerous websites and cookbooks looking for a better variation, but time and time again, it's my husband's original family recipe that is the front-runner.  The beauty is in its simplicity. Unfortunately I have absolutely no idea where this Dutch Baby recipe originated from so I am not able to give credit. But when you see how simple the list of ingredients is, I don't really think any one person could lay claim to "developing" this recipe first!!
The trick to these Dutch Babies is to melt the butter and heat up the baking dish at the same time that the oven is preheating to 425F. It takes my oven roughly 17 minutes to preheat to this temperature, so turn it on as soon as you start. That is why I say 17 mins of prep time – it's the preheat time. Surely whisking some eggs, milk and flour shouldn't take more than a couple of minutes!!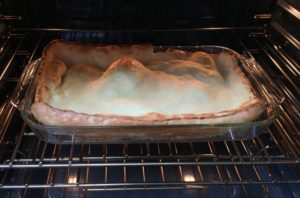 Once the dutch babies are in the oven, prepare some toppings. Our favourite toppings are whatever fruit is in season – strawberries, blueberries and/or raspberries – with a splash of some good maple syrup of course. A sliced banana will also do the trick. If you really want to go crazy, try a drizzle of melted nutella on top of the bananas – not the healthiest option, but it sure makes a special birthday breakfast treat for any chocolate hazelnut lovers in your family!!
Chop up some fresh fruit and get out the maple syrup. These Dutch Babies are going to get gobbled up fast!
Fickle Family Tip for Dutch Babies
Normally I like to add a "fickle family" note or tip to my recipes, but truly this one doesn't need it. I have yet to find a kid who doesn't love it.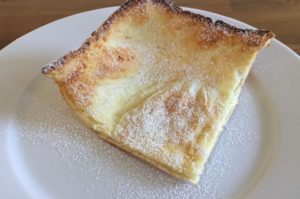 Print
Dutch Babies
Yield 4
Dutch Babies are a family favourite in our household. Topped with fresh berries and maple syrup, this dish sets the tone for a fun and indulgent weekend!
Ingredients
1/4 c butter
3 eggs
3/4 c milk
3/4 c flour
icing sugar, maple syrup and berries for topping (optional)
Instructions
Preheat oven to 425F.
Put butter into a 9x13 baking dish and put in the oven to melt while oven is preheating, keeping an eye on it to make sure it doesn't burn.
Whisk eggs.
Lightly whisk in milk and flour to the eggs.
Once oven is preheated, remove the pan with butter and pour in the whisked ingredients.
Bake for 20 minutes or until Dutch Babies are golden and lightly browned around the edges.
Serve with your favourite toppings.
Notes
Our favourite toppings for this recipe are fresh or frozen berries with maple syrup but feel free to create your own!
Courses Breakfast
Cuisine North American