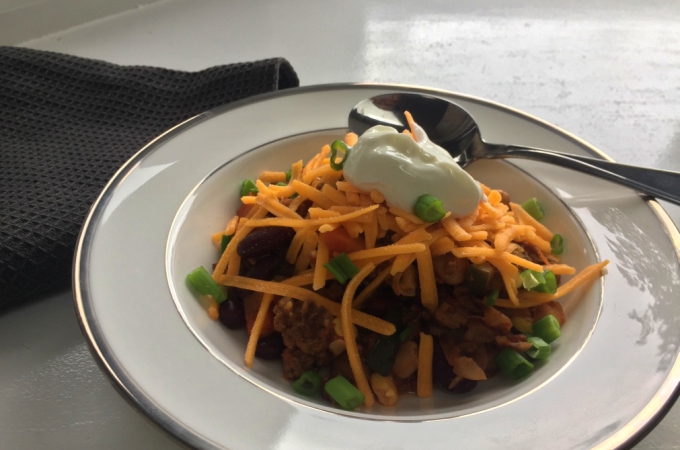 This beef and vegetable chili recipe has been in my family for over twenty years and it is still on the regular rotation.  Why?  There's a few reasons:
I love chili. Love.
This recipe combines the best of both worlds – rich and meaty beef and sausage as well as healthy and flavourful vegetables and beans.
I can make it on the stove or slow cooker or pressure cooker* depending on how much time I have and when I want to do the prep.
BOTH MY KIDS LOVE IT!!!
As a mom and a cook in general, I'm always looking for ways to increase our vegetable consumption at home, and this recipe is the perfect opportunity to do so.
Chili purists will argue that this isn't a real chili, but I don't care!  I find beef chili or chili con carne to be quite boring, not to mention a lost opportunity for including healthy stuff.  And vegetarian chili? Well, it always leaves me wanting….I never feel quite as satisfied when the meat is omitted completely.  Plus, unlike my son (8), my daughter (11) is a carb and veggie nut – I need to take every opportunity to get some protein in her! And she loves this recipe. She's taken it to school in a thermos 3 days in a row.  Winner.
I'm embarrassed to say that I take a few shortcuts in this recipe.  I usually avoid recipes that use prepared or junky foods (i.e. a cake recipe that includes a box of cake mix? Never!), but in this beef and vegetable chili, I add in BBQ sauce and ketchup to step up the flavour and sweetness.  Of course there are other ways to do this, but I've got to tell you, this combo just works.  Why mess with it?
Beef and Vegetable Chili Toppings
Now let's talk toppings.  This is entirely up to you, but in my opinion what separates the boys from the men in the chili department are the toppings.  My favorites include:
sharp cheddar cheese
sour cream or plain yogurt
green onions
chopped cilantro
diced avocado
hot sauce
---
Fickle Family Tip – you can customize this recipe based on whatever veggies are favorites in your house, however I find that I can sneak in some of the more unpopular ones (ie. mushrooms) and the kids barely notice.
---
If you like this healthy family favourite recipe, here are a few others that you should check out:
Pressure Cooker Hamburger Soup
I hope you enjoy this recipe as much as we do!  I would love to hear from you if you do – please leave a comment below or connect with me on Facebook or Instagram.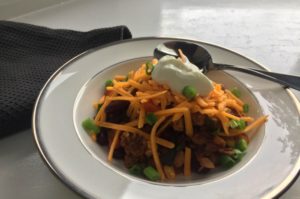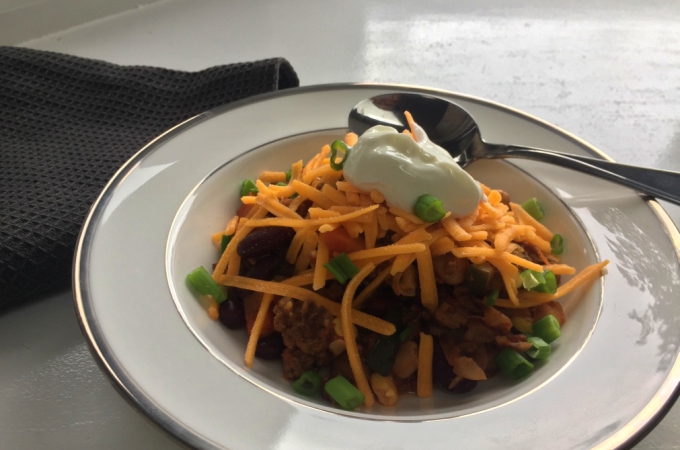 Print
Beef and Vegetable Chili
Yield 6 servings
A tried and true family favourite chili recipe combining the best of both worlds - hearty, meaty chili and colourful, healthy vegetables.  
Ingredients
1/2 lb lean ground beef
1/2 lb Italian sausage (your choice of mild, sweet or spicy), crumbled
2 onions, chopped
2 garlic cloves, minced
2 - 3 cups chopped vegetables such as mushrooms, red pepper, zucchini, carrots and/or corn kernels
14 oz can diced tomatoes, drained
14 oz can crushed tomatoes
2 - 19 oz cans red kidney beans, drained
1 - 19 oz can chick peas, drained
2 tbsp chili powder
1 tsp cumin
1/4 tsp red pepper flakes (optional)
2 tbsp BBQ sauce (whatever brand you like)
2 tbsp ketchup
1 tbsp lemon juice or apple cider vinegar
Instructions
Brown the meat and onions in a large skillet, saucepan or pot over med-high heat, breaking up any large bits.  Drain excess fat if necessary.
Add onions, garlic and vegetables and continue to cook for another minutes until vegetables have softened.
Next, add in the spices,  BBQ sauce, ketchup and lemon juice and stir well.
Finally, pour in the beans and tomatoes, cover and simmer until vegetables are tender, about 10 minutes or until you are ready to eat!
Notes
If you don't want to use Italian Sausage, you can use all ground beef.  
This can be made in a slow cooker as well.  Simply brown the meat and onions first, and then add in the rest of the ingredients.  Cook on low for 4 - 6 hours.
*You can make this recipe in a pressure cooker as well, just be sure to add in an extra cup of liquid (water or broth) or whatever amount suggested by the manufacturer.  Cook on high pressure for 10 minutes, and then either quick or natural release - your choice, chili is very forgiving!!
Courses Dinner
Cuisine North American
SaveSave
SaveSave
SaveSave
SaveSave