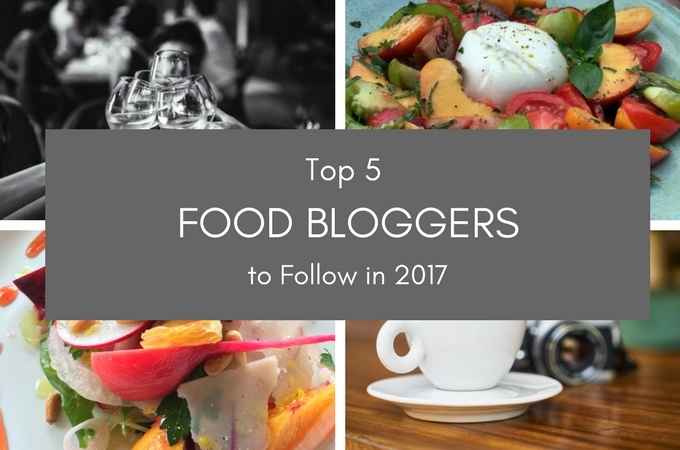 For those of you who know me, I have a wee obsession with food and food related topics.  I'm constantly online researching and sourcing recipes and techniques, and since I started my own food blog last May, this habit has only gotten worse!
I spend a lot of time in the kitchen testing and vetting recipes, my own and from other sites, and I know better than anyone that there is no shortage of recipes and food inspiration online.  But sometimes it's really hard to identify if a recipe or blogger is actually any good. How many times have you made a dish that looked amazing online only to be completely underwhelmed by the results?  It's frustrating to say the least.
---
Beware – many food bloggers are actually better photographers than cooks!
---
So I'm going to try to help you cut through the smoke and mirrors.  Every so often I'm going to do a round up of my research and results and share with you who I think is worth looking at.  For today, these are my picks for the top 5 Food Blogs to follow in 2017:
#1 Modern Honey
Modern Honey has become one of my go to sites for food inspiration, especially on the baking side. She is an award-winning baker and busy mom of 4.  Her Levain Bakery Copycat  Chocolate Chip Cookies are absolutely to die for.   You can tell from her site that she posts quality recipes as opposed to quantity.  This holds true for non baking recipes too.  I recently made her Cheesy Rigatoni Bake and it got rave reviews from my family and friends.  Next on my list to try is her Skinny Fettuccine Alfredo!
#2 Recipe Tin Eats
Nagi is from Australia and somehow I feel as though we have tastebud soulmates. I'm drawn to her non-fussy cooking style and focus on herbs and spices for flavour development. She doesn't just throw salt and butter at it, if you know what I mean. Although many of her dishes have a strong Asian influence, she develops amazing recipes with flavour inspiration from all over the world.  For example, her slow cooker pork carnitas are bang on, and her greek chicken thighs and tzatziki recipe is one of my family favorite go-to's.  Recipe Tin Eats is definitely one of my top food blogs to follow in 2017. It's a great site for you to bookmark for flavourful, crowd pleasing food.
#3 The Pioneer Woman
The Pioneer Woman is still one of my go to's for good, solid, kid friendly home cooking. I'm a sucker for her TV show on The Food Network.  I think it's either the ranch scenery or the horses and the dogs running around.   I highly recommend following her on Instagram purely for her dog posts!! But as for her recipes, the one word that I would use to describe them are consistent. Not always "knock your socks off this is the best xyz I've ever had!!!", but her recipes are simple and are usually incredibly kid friendly. They aren't necessarily very healthy either. Her schtick is feeding growing kids and hungry cowboys, not 40+ year old women wondering why their metabolisim seems to be slowing down more and more every day! I would categorize her style of cooking as more kid friendly comfort food if that's what you are into. One of our favourite go-to's is her Chicken Chow Mein. Definitely worth a go! Plus, she's got so many recipes and how to's on her site. She has a lot of great tips for things like Freezer Meals and Meal Kits that can help save time and get food on the table faster.
#4 Serious Eats
When I was in Cooking School, I drove Chef Curtis nuts by always asking him "why?". He's an amazing Chef who achieves stellar results going by feel and instinct, and this would sometimes frustrate him.  After a while he would just roll his eyes at me and grunt "just because". On my last day, he highly recommended the book The Food Lab by J. Kenji López-Alt. Kenji is all about unravelling the science behind cooking and why food tastes the way it does. He is also the managing culinary director of the site Serious Eats.  He is absolutely fanatical about recipe testing, and I love how he shares his results with his readers, helping you understand the hows and whys of what you're cooking.  Because of that, Serious Eats is one of my top food resource sites.  His recipes for Weeknight Spaghetti (adapted here on IntotheDish.com) and Pressure Cooker Beef Stew are wonderful, and if you get his book, I highly recommend reading his section on mashed potatoes (do you love creamy or fluffy?) and roasting vegetables.  You will never mess them up again!
And of all the Food Blogs to Follow in 2017…
#5 Into the Dish!
How could I write a blog post on my favourite food blogs to follow in 2017 and not mention my own brand new baby?  Shameless plug 😃 After taking a few months off over the summer to be with my kids, I am back at it again pulling together great recipes, tips and inspiration to help stoke your passion in the kitchen while cooking for your *sometimes fickle* family.
Need some inspiration for dinner tonight?  Why not try this Pork Tenderloin with Peanut Sauce? Is cooking for kids sucking the life out of you?  Host a dinner party!  Here are some tips for hosting a family style dinner to help you pull it off. Want to try something new that will make you a hero with the kids and make the house smell great? Try your hand at baking a baguette. It's much easier than you think! Wonder why your chicken thighs always stick to the grill? Learn about the Glide and Slide method and it will never happen again.
If you want more tips and inspiration from me, please go ahead and follow me on Facebook and/or Instagram.  You can also sign up to receive email updates from me and get excited in the kitchen again!
So there's my round of the top five food blogs to follow in 2017.  They are the ones that I'm watching right now. Be sure to bookmark these bloggers and visit them for your dinner inspiration tonight.
Who do you follow? I'd love to hear where you get your food and recipe inspiration from!  Please go ahead and leave a comment below.
---