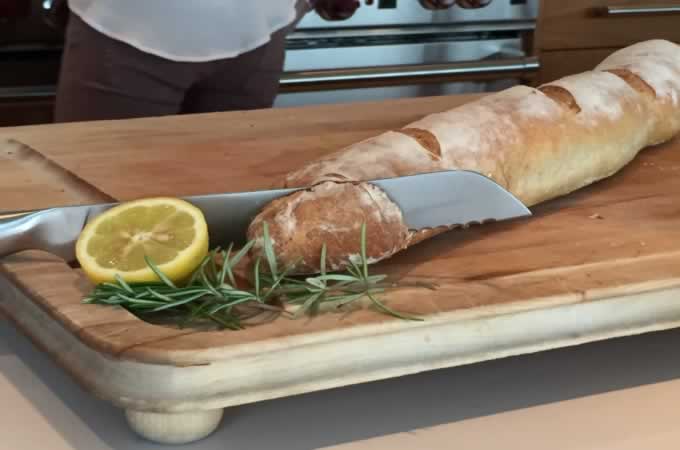 Whipping up a fresh baguette has been one of my favourite party tricks for the past few years. Looks impressive, and the house smells amazing!!!
I have read countless articles on bread making over the years that claim to hold the BEST secrets to making an incredible loaf.  For the novice baker, making a basic fresh baguette can be incredibly intimidating. It doesn't need to be!
The most incredible bread, in my opinion, is bread that is served FRESH from the oven.
Last summer during my stint at NWCAV, Chef Warren demystified bread making for the class and broke it down into 4 simple ingredients and 6 simple steps.
Ingredients:
Steps:
Mix
Knead
1st Rise
Shape
2nd Rise
Bake
---
Simple recipe + uncomplicated process = bread you will make more often = more bread fresh from the oven = best bread ever.
---
Let's take it one step further.  We've simplified the fresh baguette recipe and the process, now let's talk timing.  To be successful at bread making, you need to plan ahead. For example, if I know that I want to make a fresh baguette in advance, I always make my dough the night before and let it proof in the fridge.  Then, I do a work back schedule from when I want to pull it from the oven.  For example, if I want the bread ready for 6pm:
4:00 – Remove dough from fridge to warm up to room temp (30 min)
4:30 – Shape the dough and let rise (45 min). Preheat oven.
5:15 – Bake dough for approximately 40 mins
5:55 – Bread comes out of oven and house smells divine!!
Making a Fresh Baguette is Not Complicated!
Bread making is not at all complicated.  Sure, there are millions of variations of a simple fresh baguette recipe that you can make, and thousands of different techniques to play around with, but if you master bread making in the simplest form, you will be able to easily and effortlessly serve bread fresh from the oven any time you want.
Mastered basic bread making?  Here is an article from America's Test Kitchen on a few specialty techniques to really up your game. Just need a few more tools such as a couche, baking board and pizza peel.
**Fickle Family Tip – whenever I pull out a fresh baguette from the oven or  flatbread off the grill, suddenly whatever else I'm serving is automatically a win!
IF YOU LIKED THIS ARTICLE, OR FOR MORE GREAT TIPS AND RECIPES, PLEASE LIKE/FOLLOW ME ON FACEBOOK OR INSTAGRAM AND LET'S GET THIS RELATIONSHIP STARTED!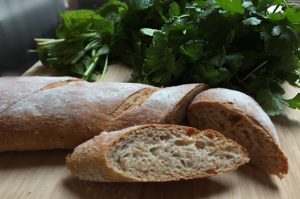 Print
Basic Baguette
Yield 1 large or 2 small baguettes
A simple and uncomplicated recipe for making fresh baguette at home.
Ingredients
1 cup water
1 tsp active dry yeast
2 - 3 cups flour (all purpose or bread flour)
1 tsp salt
Instructions
Pour water and yeast into large bowl.
Add 1 cup of flour and mix.  It should look like a pancake batter.
Add salt and continue to mix in.
Continue to add flour until a dough forms.
Start kneading on a floured surface.
Add flour a little bit at a time until the dough is formed BUT still a tiny bit sticky (a happy dough is a tacky dough!).
Shape dough into a ball, smoothing out the top and pinching together at the bottom.
Rub a little bit of oil on the dough and cover it with saran wrap or a clean dish towel.
Let rise (1st proof) for 1 - 2 hours on the counter, or overnight in the fridge (I've done up to 18 hours).
If proofed in the fridge, remove dough and let sit about 30 mins to warm up.
Stretch dough into a rectangle and place on a floured surface.  Fold and pinch dough (like you are "rolling up the rim") into a baguette shape.  Fold up and pinch the ends.  
Prepare a large sheet pan* with parchment paper.  Lightly oil the sheet, or sprinkle with a little bit of cornmeal if you have it.
Transfer, seam side down, onto the pan.  Sprinkle generously with flour, cover with a dishtowel.  Let rise (2nd proof) for about 30 - 60 minutes**.
Preheat oven to 400 degrees F.  Can add a little bowl of water to the oven to create some steam.
Score the bread diagonally with a sharp knife and bake until a deep golden brown, approximately 40 minutes**.  
Notes
* I use an extra large sheet pan and usually have to place my baguette on the diagonal so that it fits.  If you don't have an extra large pan, divide the dough in half and roll two separate baguettes.
** Bread making can be a bit subjective.  For example, amount of time for the "perfect" proof will depend on many things, including the temperature of your house.   Don't get too fussed about this in the beginning.  Even if your bread is a bit over or a bit under proofed, it will still be great!  Same goes for amount of time to bake.  40 mins is a guideline, but trust your judgement.  The more dark golden brown, the harder the crust.
Courses Baking and Desserts
Cuisine French
SaveSave