This recipe for Healthy-ish Blueberry Banana Muffins has been a staple in my house ever since I had kids.  As many moms would agree, muffins are a go to in a house with children – in their lunch, as a quick grab and go after school, before sports, etc.  They are always hungry, and a hearty muffin always seems to do the trick.
Unfortunately muffins (like pancakes or these delicious Dutch Babies), can offer little nutritional value, sometimes similar to cake if you are not careful.  A great muffin is usually loaded with butter, flour and sugar, not dissimilar to your favourite birthday indulgence.  So when I make muffins, I like to play around with the ingredients a bit to ensure that at least there is a tiny bit of nutritional longevity in the fuel that I'm throwing at the kids.
The following recipe comes from an old cookbook of mine called Light Cooking by Rose Reisman.  Made as is, it's still a bit more virtuous than many of the bakery style muffins out there today.  But feel free to play around with it.  I have done many substitutions with different types of flours, sweeteners and oils and have yet to have my healthy-ish blueberry banana muffins come home untouched.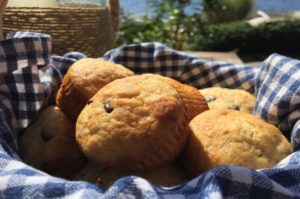 Print
Healthy-ish Blueberry Banana Muffins
Yield 12 muffins
A crowd pleasing, healthy-ish muffin.  Quick and easy to make!
Ingredients
2 small bananas (about 3/4 cup puréed)
1/2 cup sugar (can use brown or coconut sugar)
1/3 cup vegetable oil (can use olive or melted coconut oil)
1 egg
1 tsp vanilla
1 cup flour (can do 1/2 all purpose, 1/2 whole wheat, or 100% whole wheat)
1 tsp baking powder
1 tsp baking soda
pinch of salt
1/4 cup yogurt or sour cream (full fat or reduced fat all work, plain or flavoured)
1/2 cup blueberries
Instructions
Beat together bananas, sugar, oil, eggs and vanilla.
Add flour, baking powder, baking soda and pinch of salt and stir just until combined.
Stir in the yogurt or sour cream.
Add blueberries and lightly fold in.
Scoop batter into muffin cups, either lightly greased or lined with parchment paper or other protector.
Bake for 20 minutes at 375˚F.
Notes
You can make this recipe in a loaf pan as well.  Just increase baking time to about 35 minutes.
For a special treat, you can substitute the blueberries for chocolate chips - certainly not as virtuous, but sometimes that's not the point!
Courses Baking and Desserts
Cuisine North American
Nutrition Facts
Serving Size 1 muffin
Amount Per Serving

Calories 150

% Daily Value

Total Fat 6 g

9%

Cholesterol 18 mg

6%

Sodium 110 mg

5%

Total Carbohydrates 21 g

7%

Dietary Fiber 1 g

4%

Protein 2 g

4%
* Percent Daily Values are based on a 2,000 calorie diet. Your daily values may be higher or lower depending on your calorie needs.