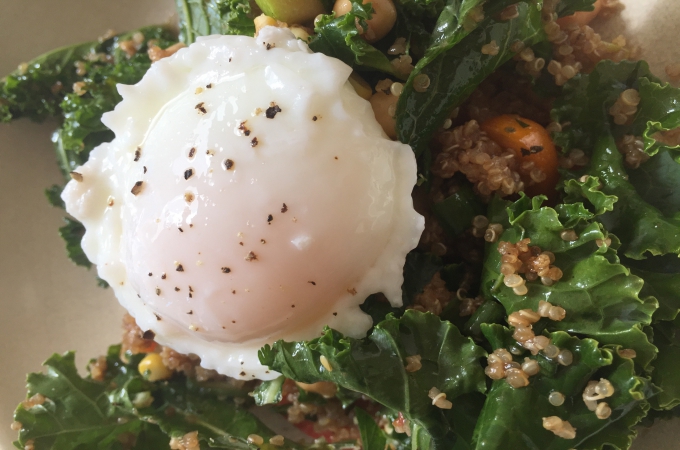 Kale and quinoa salad has become my go to lunch over the past few months not just because it is super quick and easy to prepare, but because it is packed with healthy, fresh and filling ingredients that fuel you for the rest of the day.
Another great thing about this salad is that you can customize it based on whatever ingredients you have on hand. Don't have kale? Use another green like romaine. No quinoa? Try brown rice or even pearl barley.
There are a few tips to making a great kale and quinoa salad, or any grain salad really:
*put some thought into how you want it to taste.
*pair ingredients that go well together (i.e., tomato and basil).
*don't forget about proportions – you want a 2:1 ration of greens to grain.
*don't skimp on the dressing, and go to town on the herbs.
For more information on how to make a great composed grain salad, read this post.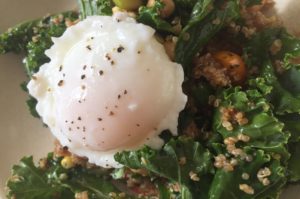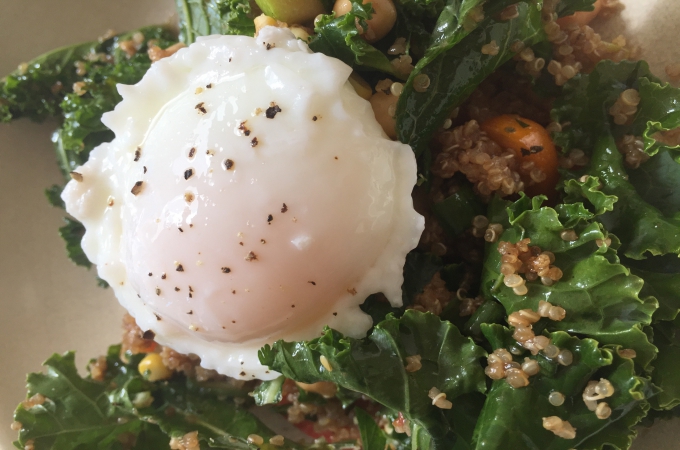 Print
Kale and Quinoa Salad
Yield 3
A quick and healthy lunch, side or dinner that is sure to impress.
Ingredients
1/2 c cooked quinoa
1/2 c kale (small handful)
1/2 c mixture of herb leaves (mint, basil, parsley) and microgreens
1/8 cucumber, brunoise
1/8 apple, brunoise
1/4 cooked beet, brunoise
1/3 rib celery, brunoise
1/2 green onion, curls with green parts, sliced white
1/2 segmented orange, cut in thirds
1/4 c crumbled feta
6 toasted pecans, broken in halves
2 T olive oil
1 t dijon mustard
Juice of 2 lemon cheeks (about 2 T)
3 eggs, poached (optional)
salt & pepper to taste
Instructions
To make vinaigrette, combine oil, dijon and lemon in a jar and shake well.
Mix 1/3 of vinaigrette into quinoa to season.
Combine cucumber, apple, celery, orange segments, feta and pecans and add 1/3 of the vinaigrette.
Add the greens, herbs and quinoa to the salad and toss with remaining vinaigrette. Add beets and lightly toss.
Garnish with green onions and serve.
If using, top served salad with poached egg.
Courses Main
Cuisine American