I'm a sucker for traditional desserts, but unfortunately pumpkin pie has never done it for me.  Even with a well made crust, I usually find the filling bland and boring.  Not what I'm looking for after a marvellous turkey dinner!
And then I met this pumpkin dessert…..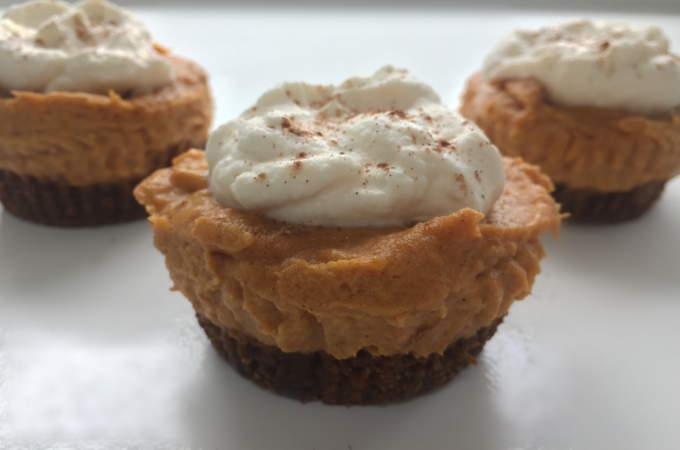 Hello My Mini Pumpkin Cheesecake!!
Albeit more of a cheesecake than a pie, this is a great, almost no bake, pumpkin dessert to serve during the holidays.  We started serving this pie created by Joy the Baker about 7 years ago, and it quickly became the most requested version for Thanksgiving and Christmas dinner.  Using gingersnaps as a cheesecake style crust gives it a solid flavour kick and crunch, and the maple whipped cream takes this mini pumpkin cheesecake to a whole new level.
I've made a few tweaks to the recipe, and while the pie version is great, I like to sometimes serve them as individual mini pumpkin cheesecakes (as shown) to switch things up a bit and to stretch the pie into 12 proper servings.  Nothing worse than a tiny pie sliver on your plate – this looks way better, don't you think?
I should also mention that the inspiration for muffin tin pies came from this recipe here for almost no bake mini chocolate peanut butter pie by Carlsbad Cravings.  If you are a fan of chocolate and peanut butter, this is a must try!!!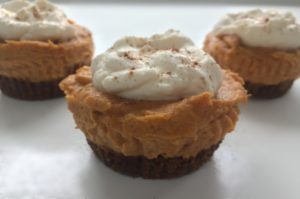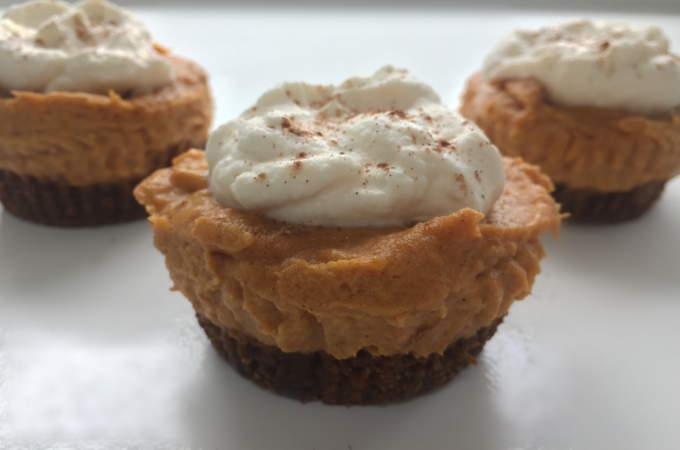 Print
Mini Pumpkin Cheesecake
Yield 12 servings
An easy, almost no bake alternative to pumpkin pie.
Ingredients
Crust:
1.5 cups ginger snap cookies, finely crushed using a food processor
2 tbsp sugar
4 tbsp butter, melted
1/4 tsp salt
Filling:
1 (8-ounce) package cream cheese, softened
5 tbsp butter, softened
1.5 cups icing sugar, sifted
1 tbsp pure vanilla extract
1 tsp molasses
1.5 tsp cinammon
1/2 tsp nutmeg
1/2 tsp ground ginger
1 (15 ounce) can pure pumpkin puree
Topping:
1 cup whipping cream (or heavy cream)
2 tbsp maple syrup (pure)
Instructions
For the Crust:
Preheat oven to 350°F.
Line a 12 cup muffin tin with muffin tin liners.
Combine ginger snap crumbs with sugar, salt and melted butter.
Divide crumb mixture evenly amongst 12 muffin tins (approx. 2 tbsp per cup).
Press down firmly and bake to set, approximately 5 - 7 minutes.
Remove from the oven and let cool completely before adding the filling.
For the Filling:
Combine cream cheese and butter and beat until smooth and creamy.  
Add the icing sugar and continue beating for another 2 minutes.  
Add the pumpkin purée, spices, vanilla and molasses and beat until combined and no more lumps appear.
Once crust has cooled, fill the tins evenly with the pumpkin mixture.  
Chill in the fridge for at least 12 hours to set. Keep chilled until ready to serve.
To Serve:
Prepare the whipped cream by mixing the whipping cream with the maple syrup until soft peaks appear when beaters are lifted.  
Remove muffin tin liners from pies and arrange on individual plates or on a platter.
Spoon a dollop of whipped cream onto each pie.
Garnish with maple flakes, pumpkin pie spice, or cinammon, or drizzle some maple syrup on top (optional).
Enjoy!
Notes
This recipe can be made as a 9 inch pie.  When baking the crust, increase time from 5 - 7 minutes to 15. 
Courses Dessert
Have you tried this muffin tin pumpkin pie mini cheesecake?  If so, I would love to read your comments below!
Looking for something a bit more rich, chocolate-y and decadent?  Forget about tradition and try my favorite Chocolate Crazy Cake.
In a turkey kind of mood, but don't want all the fuss?  Try this 1 hour Roasted Turkey Breast recipe – perfect for a smaller gathering or just a regular Tuesday night.
Looking for some more inspiration for Turkey dinner with all of the fixings, but not sure what sites to trust?  Check out my five favourite food bloggers for more tips and inspiration.
Want to hear about more great recipes, tips, and inspiration for foodies cooking for *sometimes* fickle families? LIKE Into the Dish on Facebook, or follow Into the Dish on Instagram and let's stay in touch.
SaveSave
SaveSave
SaveSave