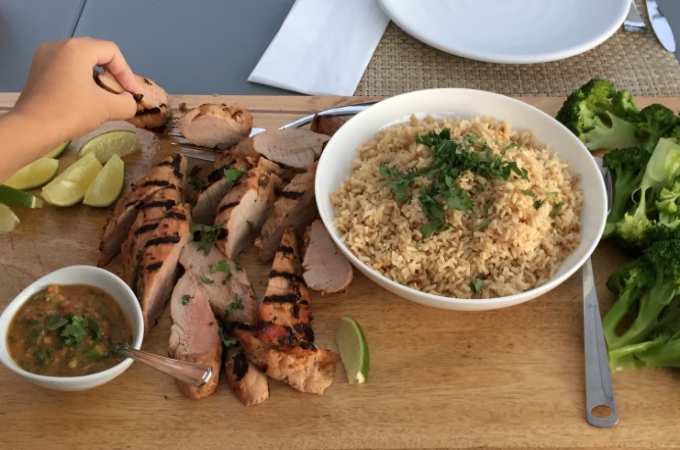 This pork with peanut sauce recipe was given to me by my good friend Meredith close to 20 years ago after she completed culinary school.  It is still on my regular rotation today!! The ingredients from her recipe combined with the cooking method that Kenji spells out in his book The Food Lab make this one of the most delicious and relatively easy pork with peanut sauce recipes you can make.
Peanut Sauce for Pork Tenderloin
The sauce has quite a few ingredients in it, but I assure you it's all worth it. The first time that you make this peanut sauce for pork tenderloin, please don't skimp or substitute. I have tried and it has lead to disappointments. Do it exactly as it is first. The next time you are welcome to substitute as you wish (and I'm a big fan of substituting and using up whatever I have on hand!). But I swear that there is something magical in this sauce….don't mess with it if you want the real deal!
How to Cook Pork Tenderloin
Don't know how to cook pork tenderloin? The cooking method is actually very simple. You sear the meat on the stovetop or the grill, and finish it in the oven (or covered grill).  After a brief rest, serve your pork with peanut sauce and enjoy with some steamed rice and broccoli. When you make the sauce in advance, it's a relatively quick and easy meal to make, for a family or for a crowd. It presents great for a family style meal!
*Fickle Family Tip*
Pork Tenderloin is a mild tasting white meat and always a favourite in my house.  Serving the pork with peanut sauce, while a favourite with adults, can be a bit strong for kids.  We're batting about 50/50 with this one!!  Make this a kid friendly meal by slicing off a few pieces before you drizzle with the peanut sauce at the end.  Serve with some applesauce instead and boom – a meal that pleases both the foodies and the kids or picky eaters at the table!
---
What is a fickle family you ask?  Here's my definition of a fickle family.  If you have kids, there's a pretty good chance that you have one.  But don't despair, we can work through this together!
---
You know what really goes well with this recipe? A freshly baked, homemade baguette. Ever made one? It's easier than you think! Read my instructions on how to make a simple, crusty french bread at home. You'll be surprised at how easy and impressive it is.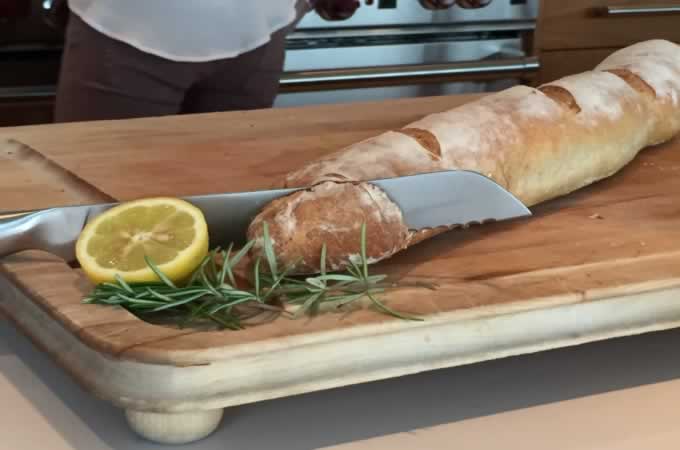 If you liked this blog post, or for more great tips, recipes and inspiration for fellow foodies feeding *sometimes* fickle families, please LIKE/FOLLOW ME on FACEBOOK or INSTAGRAM and let's get this relationship started!
*this recipe was adapted from the cookbook Hot Barbecue by Hugh Carpenter and Teri Sandison.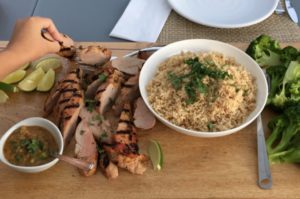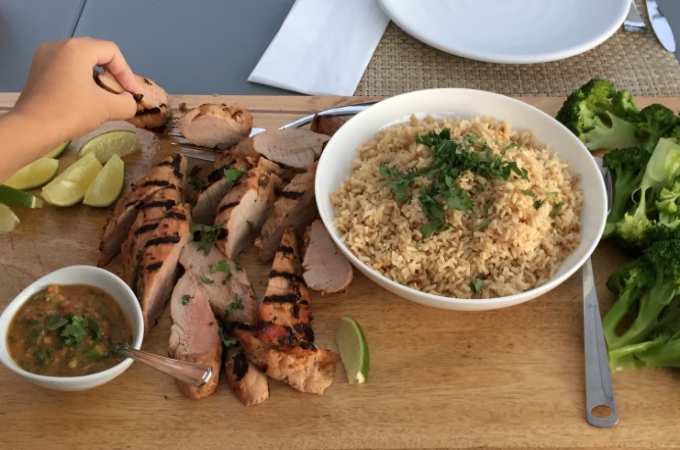 Print
Pork Tenderloin with Peanut Sauce
Yield 4 servings
This pork with peanut sauce recipe can be a great weeknight meal or dressed up for a dinner party.  Make the sauce in advance to bring this meal together quickly. Delicious and beautiful served with some rice and a bright green side of steamed broccoli.
Ingredients
2       Pork Tenderloins
Peanut Sauce for Pork Tenderloin:
1/2c    chunky peanut butter
1/4c    sherry (or rice wine)
2 tbsp   soy sauce
2 tbsp  white wine vinegar
2 tbsp  honey
2 tbsp  oil 
1 tbsp  sesame oil
1 tbsp  Sambal Oelek
4 cloves garlic, minced
2 tbsp  ginger, minced
1/4c    green onions, thinly sliced (plus more for garnish)
1/4c    cilantro, chopped (plus more for garnish)
Instructions
For the Peanut Sauce for Pork Tenderloin:
Combine all the ingredients and set aside.  
How to Cook Pork Tenderloin:
Preheat oven to 400°F
Pat dry the tenderloins and season with some salt and pepper.  
Preheat a stainless steel or cast iron pan on the stove over high heat.  Once heated coat the pan with cooking oil.
Brown the tenderloins on all sides, about 10-15 minutes total.
Remove the pan from heat. Coat the tenderloins with a few tablespoons of the peanut sauce, and place in the preheated oven.
Cook for about 15 minutes, or until pork registers 130°F on an instant read thermometer.
Remove from oven, cover and let rest for 10 minutes.  To serve, slice pork on the bias and drizzle with peanut sauce.  Serve with extra sauce on the side.
Notes
If you don't have an instant read thermometer I highly recommend keep getting one. One of the biggest mistakes that you can make with pork tenderloin is overcooking it. You definitely want to make sure that there is still some pink in the middle contrary to what we've grown up believing. Pork does not need to be cooked until every drop of moisture has been squeezed out!
Wondering how to cook pork tenderloin on the BBQ? This recipe can also be cooked on the grill.  Be sure to oil the tenderloin before searing, and cover and reduce heat to medium (or 400°F if your bbq shows the temperature) to finish the cooking.