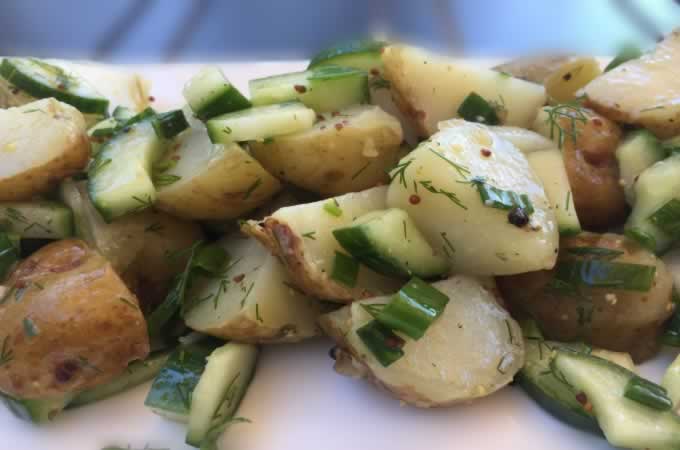 I have a love hate relationship with potatoes. While my entire family adores them, I know that I can't eat too many before my pants don't fit anymore!! Alas, sometimes I have to put my hungry, growing family first and focus on some side dishes that aren't all about me and my low carb preferences!
Enter the No Mayo Potato Salad
A few weeks ago I started dabbling with a healthier, no mayo potato salad that could be served warm or at room temperature. It's bbq season after all, and easy side dishes to accompany grilled meat or fish are key. I hit the jackpot with this recipe. It is simple yet so full of flavour, and it's been gobbled up numerous times already by my family and various dinner guests. It's a keeper.
*Fickle Family Tip – I consider potatoes to be a great "filler" for my growing kids. If your child isn't a fan of dill or cucumbers or green stuff in general, just keep a few cooked potatoes aside before you mix it all together. Battle averted, no separate side dish required and kid's tummy gets filled.
Want to pair this salad with something grilled but nervous around the BBQ? Check out some great tips here on how to perfectly grill your steak, or how to grill chicken thighs like a pro.
If you liked this post and recipe, please consider sharing it on Twitter, Facebook or Pinterest at the top of the page.  You can also keep in touch by liking me on Facebook or following me on Instagram. Go on – Let's get this relationship started!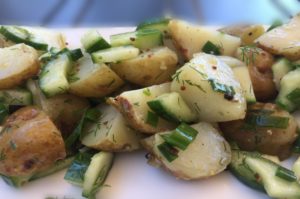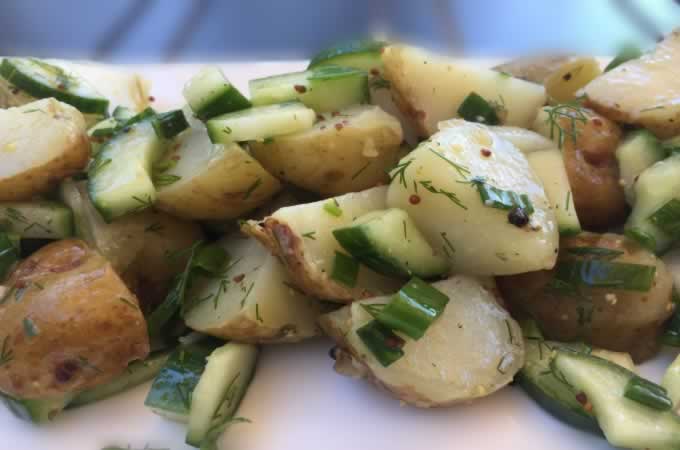 Print
Potato Salad with Cucumber, Dill and Green Onions
Yield 4-6 servings
A great, no mayo potato salad that served warm or cold makes a great side dish for chicken, meat or fish.  
Ingredients
Salad
2 lbs new potatoes (red or white)
1/2 long, english cucumber, seeds removed and sliced
4 - 6 green onions, sliced
1/4 cup fresh dill, chopped
Vinaigrette
3 T olive oil
1 T red wine vinegar
1 t grainy mustard
1 t honey
1/2 clove garlic, minced
salt and pepper to taste
Instructions
Wash and cut potatoes in half or quarters so that they are all the same size.
Boil potatoes until tender, about 10-15 minutes. Drain.
While potatoes are cooking, mix together all vinaigrette ingredients in a jar.
Combine cooked potatoes, cucumbers, green onions and dill in a large bowl.
Add vinaigrette and toss to coat.
Serve it warm immediately, or refrigerate until ready to serve. 
Courses Side
Cuisine Westcoast