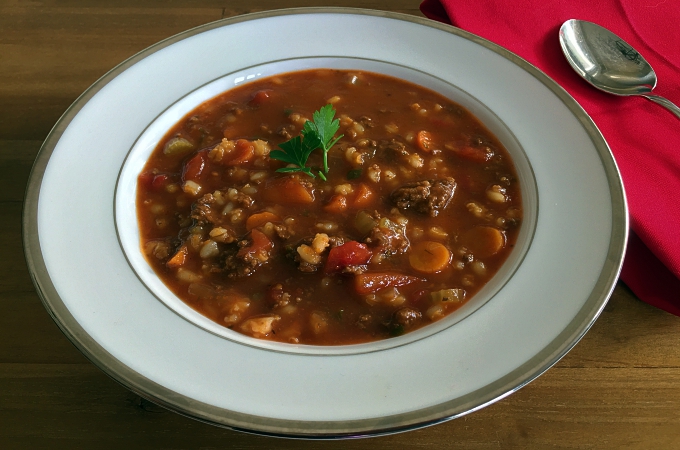 Personally, I think that every family needs to have one meal that is their go-to for a no muss, no fuss, everyone will eat it, always have some in the freezer kind of meal. Hamburger Soup from Best of Bridge is ours. Don't let the Fine China Bowl in the photo throw you off – I was just showing off – this is truly a down home family and kid favourite soup.
Made with lean ground beef, healthy vegetables, consommé and barley, this meal is filling and wholesome, and best of all, I have yet to feed a child who hasn't liked it!
Hamburger Soup freezes beautifully, and similar to a chili or stew or this amazing Chicken Tortilla Soup, it can be eaten quickly with one hand, making it the perfect meal for a busy time.  Who knows about that right about now??! Pressure Cooker Hamburger Soup takes the easiness factor to whole new level – now it is quick to make too!
Lately I've been playing around with my new Cuisinart Electric Pressure Cooker. Like the Instant Pot, it has an awesome browning, sautéing and simmering feature, as well as both a high and a low pressure setting. It cooks food at a fraction of the time it takes in the slow cooker, oven or stove top. Unlike the Instant Pot, it doesn't have a slow cooker function, but that was fine with me because I already have a great slow cooker at home.
Why Make Pressure Cooker Hamburger Soup?
Making Hamburger Soup the traditional way can take about 2.5 hours from start to finish. Pressure Cooker Hamburger Soup, however, took me just 50 minutes start to finish, and arguably the flavour was even deeper. It only has to cook for 10 minutes on high pressure (the 50 minutes takes into account the vegetable prep, meat browning, the time it takes to come to pressure all the way through the quick pressure release), and once the meat is browned and the rest of the other ingredients are added, you can just walk away.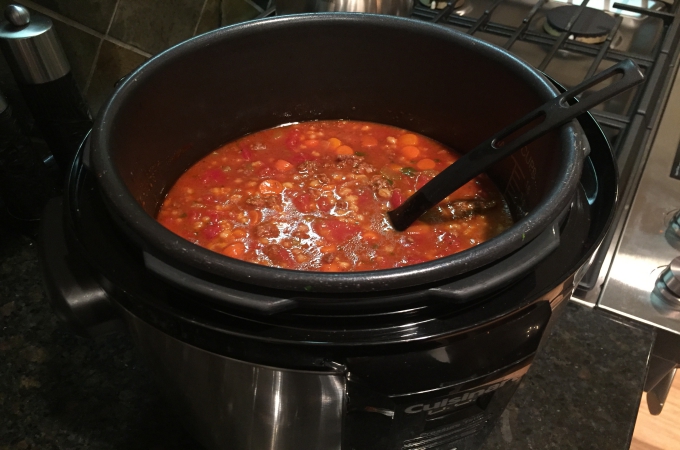 ---
**FICKLE FAMILY TIP** – the smaller you dice the vegetables, the less noticeable they are for the picky ones at your table.  They will cook a bit more however! Also, if you don't have a tomato lover, consider replacing the can of diced tomatoes with crushed tomatoes. Again, less noticeable and still all the flavour and nutrition.
---
If you are looking for a new staple for your family, Pressure Cooker Hamburger Soup is the one to introduce. If you don't have a pressure cooker, don't despair. Simply plan to simmer on the stove for 2 hours and you'll get the same results.
Cooking for a family can sometimes suck the life out of you – having a few kid pleasing casseroles, soups or stews up your sleeve can be a life saver. In a cooking rut? Here are some other tips to help you bring back your joy in the kitchen:
If you are interested in seeing more Pressure Cooker or Instant Pot recipes, please be sure to follow me on Instagram or Facebook and let's keep in touch!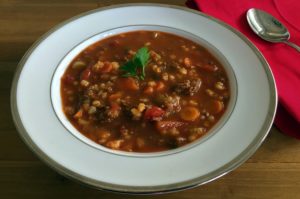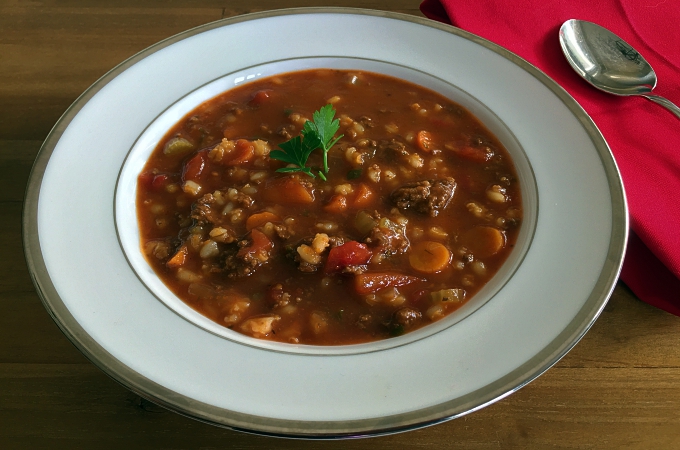 Print
Pressure Cooker Hamburger Soup
Yield 10 Servings
A rich and hearty, family friendly soup adapted from Best of Bridge for the Pressure Cooker or Instant Pot.
Ingredients
 1.5 lbs lean or extra lean ground beef 
1 medium onion, finely chopped
1 – 28 oz. can diced tomatoes 
1 cup water
3 – 10 oz. cans consommé soup (*see notes)
1 – 10 oz. can tomato soup
4 carrots, finely chopped
3 stalks of celery, finely chopped
1/2 cup pot barley
1 bay leaf
1/4 cup parsley, chopped
1/2 tsp  thyme (dried or fresh)
pepper to taste
Instructions
Chop onions.
Select the Browning function on the Pressure Cooker.  
Once hot, brown the meat and the onions, separating the meat into smaller chunks.
In the meantime, prepare the rest of the vegetables and open up all the cans.
Once the meat and onions are nicely browned, drain the excess fat and add the rest of the ingredients into the pressure cooker.
Set the pressure cooker on high for 10 minutes.
Once complete, carefully use the quick pressure release.
Garnish with some extra parsley and serve!  
Notes
Please note that consommé and beef broth are not the same thing.  Consommé is concentrated, so if you have to use beef broth, you'll have to adjust the seasonings.  Best of Bridge has suggested to add 1 tbsp of sugar, 1 tbsp of cornstarch, 2 tbsp of soy sauce, and replace the tomato soup with 1.5 cups of tomato sauce.
This recipe can be made on the stove top or in a slow cooker.  Follow the steps up to #6, and then either cook on low for 6 - 8 hours, or simmer, covered, on the stove for a minimum of 2 hours.
If you are making the soup on the stove or slow cooker, add in an additional cup of water.
Courses Main
Cuisine North American
SaveSave
SaveSave
SaveSave
SaveSave
SaveSave
SaveSave