Remember that slow cooker chicken recipe that you made a few months ago that was so tasty and easy? It had chicken and rice and asian flavourings? Can you find it again? No? Well that's annoying, isn't it?
Keeping recipes organized is never a priority until you are pulling out your hair, scanning through your papers, searching your emails or typing in every ingredient or keyword that you can remember to find THE ONE that you made. Basically wasting a load of time, but hell bent on finding THAT recipe so that you can make it tonight. Do you ever wish that there was an easy to use cooking app or system that could become your go to recipe organizer, so that every recipe that you've ever made and loved, or dreamed of cooking and loving, would be available to you at your online finger tips? There are! Here are some options for you to check out:
PAPRIKA APP RECIPE MANAGER
A quick check of the app store shows a few solid options, such as Paprika Recipe Manager. This app enables you to organize your recipes, create meal plans and grocery lists, and access this information across all of your devices.
While it sure has a lot of features, it currently comes with a price tag of $27.99. If this is something that you are looking to really commit to, however, it's worth a look. Check them out here.
But there are many other FREE Recipe Organizer systems to investigate as well.
Go on, you say…..So what are some of the best FREE ways to organize recipes these days? Over the years I've tried many different systems for keeping my recipes organized. Old school methods from cookbooks to print outs in a binder to emails saved in folders. More recently I've been trying out some social media platforms that could be used as simple cooking apps or recipe organizer. Here are three other ways to consider organizing your recipes:
PINTEREST for Recipe Boards
Pinterest has become my go to recipe organization system. It is incredibly user-friendly once you get the hang of it. You can create different "boards" or categories to organize your pins such as different types of meals (ie. dinner, appetizers), recipes to try, recipes that you've tested and loved and so on. You can create as many categories as you want, you can record notes, and you can freely move around your pins from category to category as you wish. For example, once you've tried a recipe, you can make some notes and then move it to your "Tested – Kid Favourite" board.
Solid organization of your boards or categories is key. Someone who does this well is Rebecca from Foodie With Family. Because she uses Pinterest for more than just food inspiration and recipe organization, she starts each of her boards with the overall sweeping category "FOOD". Of course she has A LOT of pins in her account. The average home cook will have way fewer.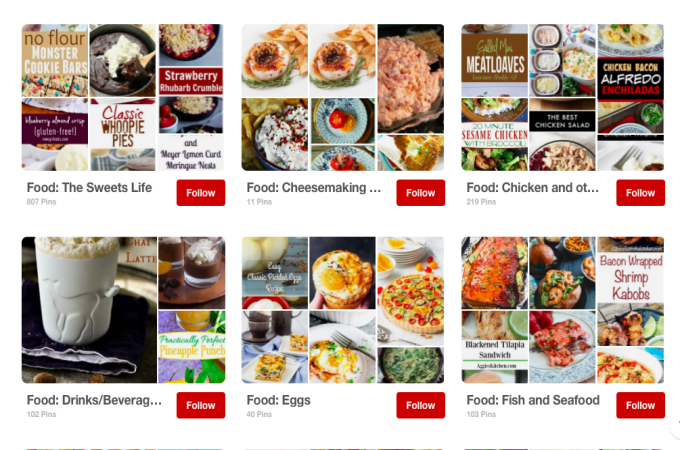 Almost all recipes that you find online can be saved to pinterest quite easily, and when it's time to find your inspiration for your next culinary adventure, it's easy to search or scroll through your pins and find something that gets your juices flowing. And if you can't find anything on your own boards, you can search ALL of pinterest. You can also find some food writers that you like (like me!) and start to follow their boards as well.
Pros
*Visually inspiring
*Can delete, move and make notes on recipes
*Great search feature for your boards as well as others
*Free
Cons
*Takes a bit of organization to set up categories
*Can't save recipes that aren't online (ie. email, your own)
Most food bloggers have the functionality on their site to pin recipes that you're interested in. And if you are into visual organizers that closely resemble a recipe app this is a good site for you. New to pinterest? There are great sites and articles available to get you started. You can check out Bonnie's page. She's a self proclaimed Pinterest addict and I'm sure you will find some useful tips and inspiration here.
FACEBOOK as a Recipe Organizer
Facebook is a very passive yet effective way to see food and recipe inspiration online. Whether it's friends sharing meals that they have made, or liked pages or suggested sites tempting you, you are sure to stumble upon recipes on Facebook that you will want to retrieve later. Facebook now has a save feature so that you can do just that. On your feed on the top right of the recipe post simply click the little down arrow and choose "save post." Then you will be able to find all your saved posts by looking in the left column of your news feed near the top in the Favorites section.
I have a lot of friends that do this and enjoy knowing that they can find a recipe that they've saved across any device that they are logged on to Facebook with. And you are not limited to what you originally see on Facebook. Most food bloggers and food websites have their recipes available to be shared on Facebook as well, so if you see something you like on another social platform or website, you can bring it to your Facebook page and save it from there.
Yes, Facebook can be useful in saving recipe inspiration and ideas. Albeit convenient and easy to use, the big drawback is that your recipes aren't organized in a very useful way. You can't organize by category, nor does it give you the visual inspiration that other systems can do. Another drawback is that you can't incorporated recipes from other sources that aren't online. Overall not the best as a complete recipe organizer.
Pros
*Easy and convenient
*Many recipes and inspiration available
*Searchable
*Free
Cons
*Can't organize into categories
*Can't save recipes that aren't online (ie. email, your own)
*Hard to add "notes" or customize
FOLDERS IN EMAIL BOX
Ok, I know that this isn't overly sophisticated, but it actually can be a very simple recipe organizer tactic. I have been doing a lot of recipe gathering and a heck of a lot of home cooking over the past few years, and this is the method that I unconsciously started using to organize my cooking literature, food ideas, recipes to try and favourite standbys. The good thing about email folders is that pretty much every recipe found online can be either sent to you by email, or copied and pasted into an email. In fact, every paper recipe can be organized online simply by snappy of photo of it and sending it to yourself via email.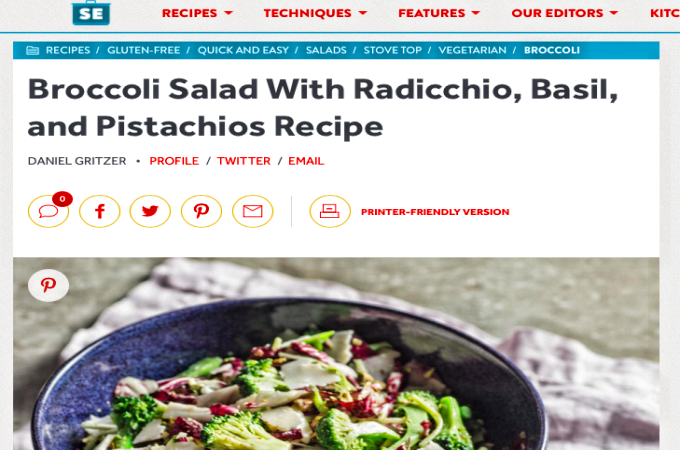 If I ask a friend to send me a recipe, I can easily add it to an email folder in my inbox. For example, I have a folder for dinner keepers, a folder for kid friendly recipes, and one for recipes to try. You can customize it however you want. I can even email myself a recipe that I created or adapted myself.
Arguably this is NOT a very sexy recipe organizer system. It lacks the visual inspiration that comes with Pinterest, Facebook and Paprika, and the folders can get unruly and clunky. It does, however, offer incredible flexibility and you always have your email folders available to you on one of your devices. If having ALL of your recipes in one place is the most important thing to you, organization via email folders is a solid option.
Pros
*Can easily email almost all formats of recipes, including paper
*Available on all devices that have access to your email
*Can organize into categories by folders
*Can add notes
Cons
*Not visually inspiring
*Takes a bit longer than just hitting save online
*Feels kind of "old school"
There are many great ways to organize recipes, however Pinterest receives my vote for the best system for the foodie home cook. Take it one step further and supplement Pinterest with an email folder for your "non-online" recipes and you'll never lose a favourite again. Whatever system or recipe app you choose to organize your recipes, my biggest tip to you is practise consistency and commitment. Figure out which method is going to work best for you and commit to it.
HERE ARE A FEW TAKE AWAY TIPS:
Comfort: Use a social media system that you are comfortable with or are committed to get comfortable with.
Commit: The more you use it, the more useful it will become.
Notes: Take notes when you cook. You think you will always remember what you wanted to remember, but chances are a few months down the road you won't remember what you assumed you would remember to remember…..
Thanks for reading and if you've liked this article I would appreciate a like or share on WHATEVER social media platform you like to use.
Want some inspiration for dinner tonight?  Check out my latest recipe picks.
I would also love to hear from you – What recipe organizer tools are you using or considering using?