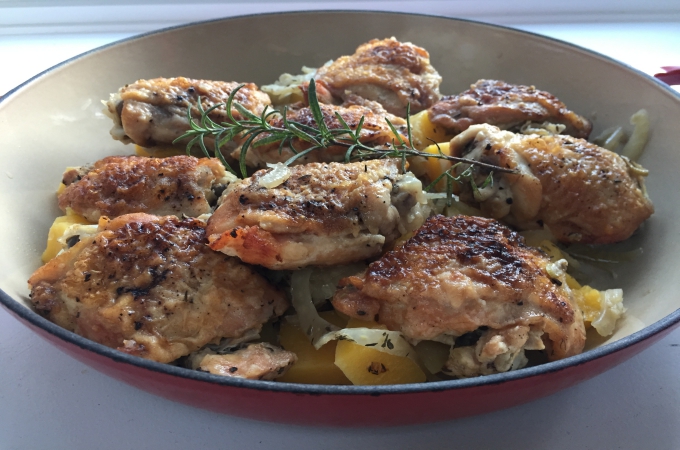 This is a delicious and super easy slow cooker chicken recipe that I got from my friend Traci. It's a wonderful fall dish, however with the weather we have been having around here it's perfect for a day like today! Here's what she has to say about it:
---
"I love making this recipe in the Fall. It really is a comfort dish for those rainy nights. This recipe is adapted from my Crock Pot Slow Cooker Cookbook. I have also done this slow cooker chicken recipe in a dutch oven and it takes half the time. I like both methods, however, the slow cooker is a little easier if you don't have much time. You don't have to do just thighs – sometimes I mix it up with legs but always buy the chicken bone in. I serve this dish with a crisp green salad and brown rice."
---
**Fickle Family Tip – Fennel and squash, while simply delicious in my opinion, aren't always the most popular with young kids. Serve this meal with a favourite vegetable such as broccoli or peas, and include a crusty baguette or big bowl of rice on the side.  There will be something for everyone!
Meals like this slow cooker chicken with fennel and squash recipe are super versatile – they can be made in the slow cooker, pressure cooker or even in the oven. It really comes down to how much time you have, and when you want to make your meal. Here are some other great options for hearty, comforting meals:
Pressure Cooker Hamburger Soup
Made from Scratch Chicken Tortilla Soup
Like this recipe? Would love a comment below!
Thanks for stopping by! For more great recipes, tips and food inspiration, follow me on Facebook or Instagram and let's keep in touch.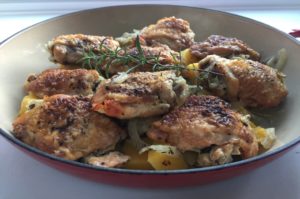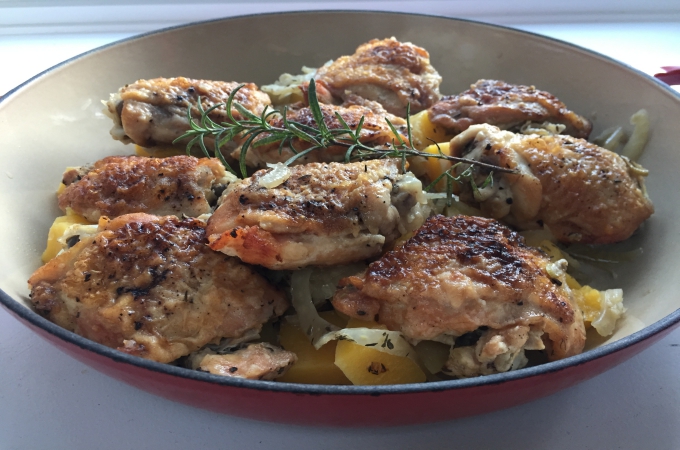 Print
Autumn Herbed Chicken with Fennel & Squash
Yield 6-8 Servings
A hearty yet healthy dish combining chicken with squash and fennel. Simple and easy to make, yet elegant enough for serving to guests.
Ingredients
1-2 tbsp coconut oil
3-4 pounds chicken thighs, trimmed of excess fat and skin
salt and pepper
flour for dredging
1 fennel bulb, thinly sliced
½ butternut squash, cut into cubes
1 tsp of dried thyme
¾ cup chicken stock
1/4 cup apple cider vinegar
1/4 cup apple juice (or use all apple juice or all vinegar in a pinch)
¼ cup of fresh basil, roughly chopped
2 teaspoons fresh rosemary, plus a sprig for garnish
Instructions
Trim chicken of excess fat and skin, or alternately, remove skin if you prefer.
Season chicken with salt and pepper and then lightly coat with flour.
Heat oil in a heavy pan.
Once the oil is sizzling, brown chicken on both sides, especially the skin side.Do this in batches if necessary.
Remove chicken with a slotted spoon and set a side.
Place all the remaining ingredients except for the basil and rosemary in the slow cooker and add the chicken on top.
Cook for 5 hours on low heat in the slow cooker.
If cooking in oven, cover and cook for 1 ½ hour – 2 hrs at 325 F.
If using a pressure cooker, follow the same steps and set the time according to your manufacturer's instructions for cooking chicken thighs on high pressure.
Garnish with basil and rosemary and serve with some rice or crusty bread for dipping.
Notes
Using a mandolin if you have one makes nice thin slices of the fennel really fast.
If you prefer crispy skin, remove the chicken from the slow cooker once finished and place in an oven proof dish. Place in the oven on broil for a few minutes until the skin has crisped up again. Watch it carefully to ensure it doesn't burn!
Courses Main
Cuisine Slow Cooker
SaveSave
SaveSave