This is a delicious and super easy slow cooker chicken recipe that I got from my friend Traci.  It's a wonderful fall dish, however with the weather we have been having around here it's perfect for a day like today!  Here's what she has to say about it:
"I love making this recipe in the Fall. It really is a comfort dish for those rainy nights. This recipe is from my Crock Pot Slow Cooker Cookbook. I have also done this in a dutch oven and it takes half the time. I like both methods, however, the slow cooker is a little easier if you don't have much time. You don't have to do just thighs – sometimes I mix it up with legs but always buy the chicken bone in. I serve this dish with a crisp green salad and brown rice."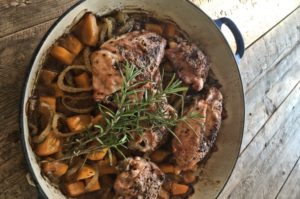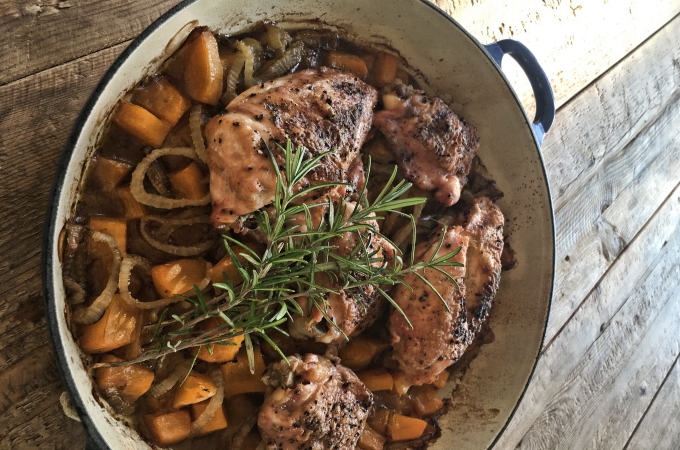 Print
Autumn Herbed Chicken with Fennel & Squash
Yield 6 -8 servings
A hearty yet healthy dish. Simple and easy to make, yet elegant enough for serving to guests.
Ingredients
2 T coconut oil
3-4 pounds chicken thighs
salt and pepper
flour for dredging
1 fennel bulb, thinly sliced
½ butternut – cut into cubes
1 teaspoon of dried thyme
¾ cup of chicken stock
½ cup of apple cider vinegar ( apple juice in a pinch )
¼ cup of fresh basil, roughly chopped
2 teaspoons fresh rosemary
Instructions
Season chicken with salt and pepper and then lightly coat with flour.
Heat oil in a heavy pan.
Once the oil is sizzling, brown chicken on both sides.
Remove with slotted spoon and set a side.
Place all the chicken in the slow cooker or dutch oven with the remaining ingredients except for the basil and rosemary.
Cook for 5 hours on low heat in the slow cooker.
If cooking in oven, cook for 1 ½ hour – 2 hrs at 325 F
Courses Main
Cuisine Slow Cooker