Sopa Azteca, or Mexican Chicken Tortilla Soup, is a vibrant, flavourful soup made up of broth, chicken, vegetables and spices. I learned how to make this soup from scratch during my stint at NWCAV. Although there are many, more traditional variations out there, this recipe is my favourite. It involves cooking the chicken and making the broth at the same time, however you can skip this step and use store-bought broth and left over chicken. But if you have the time, I highly recommend giving this method a try.
One of defining features of Sopa Azteca, in my opinion, are the  toppings – the addition of tortilla chips, avocado, cheese, lime and cilantro prior to serving make this soup out of this world! Perfectly soothing and hearty on a cold fall or winter day.
Recently my Cooking Club had a soup and salad theme and this was the soup I served. It was a hit! Perfect served with some fresh baguette and a simple green salad. A great make ahead meal, just be sure to put the toppings on right before serving.
Provecho!
*Fickle Family Tip* I find that kids love a "topping bar". Something about being able to choose what additions they want in their bowl get my kids really excited. They usually end of with a mountain of chips on the side – fine by me considering all of the protein and veggies they are getting in the soup!
Also, for the little ones who don't like a lot of spice, you can leave out jalapeño and add it as a topping for the spice lovers in your life.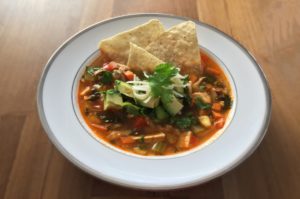 Print
Chicken Tortilla Soup (Sopa Azteca)
Yield 4 Servings
A flavourful and vibrant soup made from scratch.  Perfect for a warm meal on a cool day!
Ingredients
Broth
2 whole chicken legs (thigh and drumstick attached - some skin removed)
1 small onion, quartered
1 celery, chopped into 4 pieces
2 carrots, chopped into 1 inch chunks
1 clove of garlic, whole
1 bay leaf
parsley, a small handful of leaves and/or stems
2 sprigs of thyme
8 peppercorns
salt
Sopa Azteca 
1 T oil
1/3 cup onion, diced
1/3 cup celery, diced
1/3 cup carrot, diced
1/3 c zucchini, diced
1/2 red pepper, diced
1/2 roma tomato, diced
1/2 jalapeño pepper, seeds removed, finely diced (use 1/3 jalapeno for a more mild flavour)
1/3 cup corn kernels (fresh or frozen)
1 clove of garlic, finely diced
3/4 t cumin
3/4 t smoked paprika
salt and pepper 
4 cups of chicken broth and 1 cup shredded chicken (as made above)*
Garnishes
Tortilla chips, avocado, cilantro leaves, Monterey Jack cheese, lime wedges
Instructions
Broth 
Place chicken snuggly in a pot and fill with COLD water up to about 2 inches above the chicken.  
Add 1 tsp of salt and bring to a SIMMER (do not boil!).
Skim any fat or scum off the top and add the onion, carrots, celery and garlic.  Simmer for 30 minutes, occasionally skimming any white bubbles, or scum, from the top.
Add the bay leaf, parsley, thyme and peppercorns and simmer for another 10 minutes or so.
When done, strain the broth into a bowl, reserving the chicken for the Sopa Azteca.  Pull the chicken meat off of the bone and set aside.  
**This can be made and refrigerated 2 or 3 days in advance.
Sopa Azteca
In a medium pot, sweat the vegetables in oil until softened.
Stir in the cumin and smoked paprika and cook for a minute or two.
Add 4 cups of the reserved chicken broth* and simmer.  Taste for seasoning and add salt and pepper if required. 
Add in chicken and simmer for a few more minutes.
Pour into hot bowls and garnish with the toppings of your choice (tortilla chips, cheese, lime, cilantro, avocado).
Notes
Leaving some skin on the chicken contributes to the delicious flavour, but too much can lead to a broth that is a bit too greasy.  Remove some skin, but leave some on.  You can always cool the broth when done and remove any excess fat with a spoon.
When dicing the vegetables for this soup, try to cut them all the same size.  I like to use a corn kernel as a guideline.
Broth can be made 2 or 3 days in advance and refrigerated until ready for use.  Broth can also be portioned out and frozen for later use.
Don't forget you can always use store bought chicken broth and left over chicken to make this soup in a snap!
Courses Main Dish
Cuisine Mexican
SaveSave
SaveSave
SaveSave