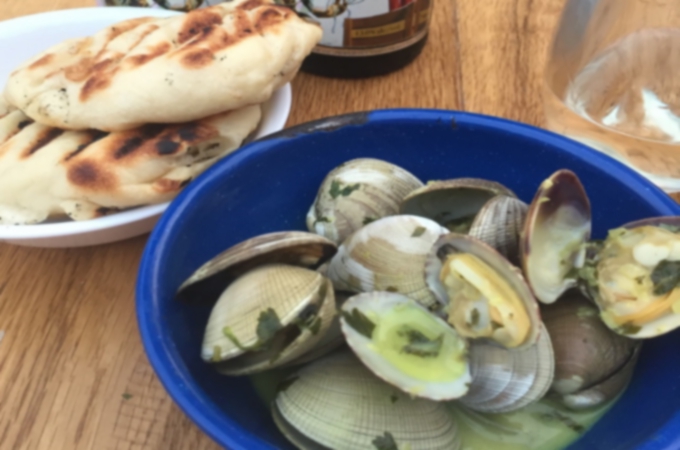 Nothing screams out summer to me like cooking freshly caught fish or shellfish on the dock at the end of hot summer day. Last month while vacationing in Desolation Sound, I was intrigued by the most delicious and unexpected smell. In a marina, you often smell other people's BBQ (steak, burgers, chicken, salmon, etc.), but this smell was different. First it was garlic (common), then ginger (not as common). Once the curry powder hit the pan I was hooked. The smell was out of this world. I had to go make friends.  My discovery? A beautiful Canoe Cove with a lovely group of passengers and Thai Clams simmering away in a coconut milk and curry broth.
This was a signature recipe and also an annual tradition for this group. After a glass of wine and some chit chat, not only did I walk away with their recipe, I ended up with a bucket of their surplus clams freshly dug from Manson's Landing. What a score. Needless to say we had a clam feast the next night, and the smell wafting from my boat was just as decadent if not more. This recipe is simple and easy, and uses ingredients that you are likely to have on hand, even on a boat.  Hope you enjoy these as much as we did.
Where to Get Your  Clams
If you are on the West Coast, the DFO is the authoritative site telling you where you can dig for clams safely. In the winter, or if you are not as adventurous to collect the clams yourself, your local fish monger will be able to help you out. I just bought 2 lbs of Manila Clams from the Lobster Guy at Granville Island Market. Thai Clams should really be made year round, shouldn't it?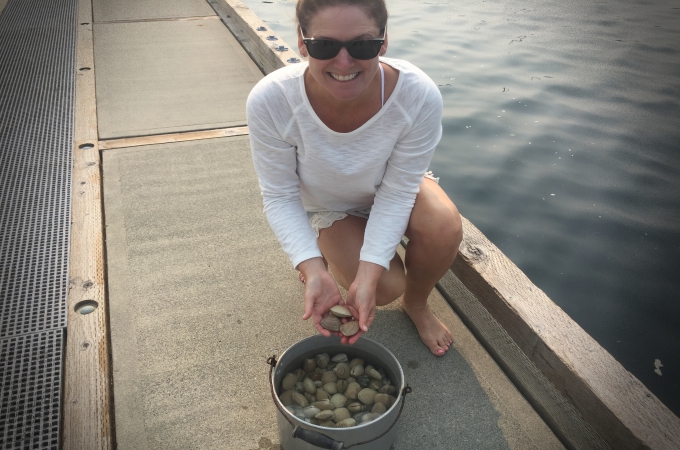 Pair this dish with a crisp white wine and some crusty bread and a salad.  Have you ever made your own baguette?  Check it out, it's not as hard as you would think!
IF YOU LIKED THIS ARTICLE, OR FOR MORE GREAT TIPS AND RECIPES, PLEASE LIKE/FOLLOW ME ON FACEBOOK OR INSTAGRAM AND LET'S GET THIS RELATIONSHIP STARTED!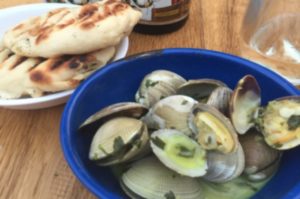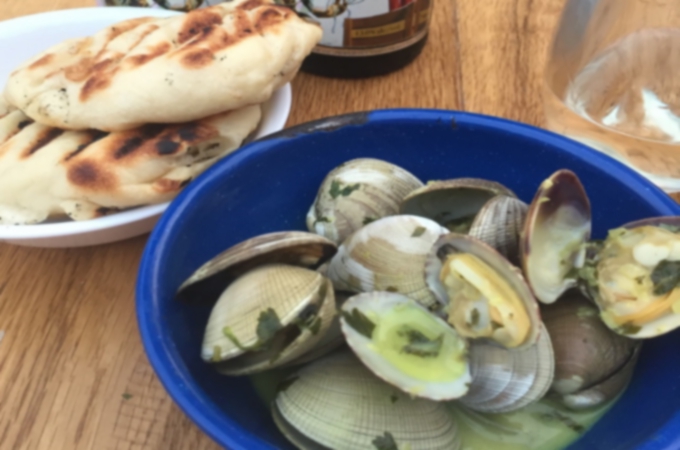 Print
Thai Clams in a Coconut Curry Broth
Yield 4 Servings
Fresh clams simmer in a fragrant broth of coconut milk, white wine and spices.  Serve with rice or a crusty loaf of bread and a fresh green salad.
Ingredients
3 lbs clams
2 shallots, finely diced
2 cloves of garlic
1 thumb fresh ginger (about 1 1/2 T minced)
1/4 cup butter
1/2 cup white wine
2 t curry powder
1 can coconut milk
1 T honey (or other sweetener like palm sugar or brown sugar)
1 Thai red chili, minced (or a pinch of red pepper flakes)
1/4 t salt (or more to taste)
1 lime, zest and juice
1/2 c cilantro, chopped
Instructions
Dice shallots and mince garlic, ginger and chili. Set aside.
Melt butter in a heavy pot.  Sauté the shallots, then add the garlic, ginger and thai chili, cooking until fragrant, about one minute. 
Deglaze the pan with the wine.
Add the curry powder and stir.
Pour in the coconut milk, chili, salt and honey and bring to a simmer.
Add in the clams and simmer until clams are opened up, about 10-15 minutes. 
Finish by adding in the lime zest and juice and garnish with cilantro.
Enjoy!
Notes
*If you find the broth too thick, you can add in 1/2 c of chicken or vegetable broth in step 5.
Courses Main
Cuisine West Coast Thai