Tom Ka Gai Soup, also known as Thai Chicken Soup, is a wonderful recipe for a Thai chicken, ginger and coconut soup that we found written in the Times Colonist by Eric from the Hot Thai Kitchen Cookbook. We've tried it with both white and brown jasmine rice and didn't notice a difference.
Also, even though Eric states that galangal should be used instead of ginger, we've tried it both ways and unless you are very familiar with galangal, it was hard to notice a difference.
Something else that goes really well with this recipe is a freshly baked, homemade baguette. Ever made one? It's easier than you think! Read my instructions on how to make a simple, crusty french bread at home.
For some other Thai recipes, check out these Thai Curry Clams or Appetizer Thai Beef Salad Rolls.
FOR MORE GREAT TIPS, RECIPES & INSPIRATION FOR FELLOW FOODIES FEEDING *SOMETIMES* FICKLE FAMILIES, PLEASE LIKE/FOLLOW ME ON FACEBOOK OR INSTAGRAM AND LET'S HAVE SOME FUN!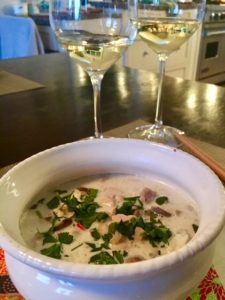 Print
Tom Ka Gai Soup
Yield 4
Amazing comfort food for a cold winter night.
Ingredients
2 cups chicken stock, store bought or homemade
1 lb. boneless, skinless chicken thighs, cubed
1 tsp salt
1 1⁄2 cups coconut milk
1 stalk lemongrass, bottom half only, sliced thin
10 thin slices galangal
5 kaffir lime leaves, torn in 3rds
2 Thai chilies (crushed them a bit - but they will be removed)
1 1⁄2 Tbsp fish sauce
1 tsp palm sugar, finely chopped, packed
5 1⁄2 oz. straw or oyster mushrooms, diced
2 to 2 1⁄2 Tbsp lime juice
• chopped cilantro and/or green onions to taste, for garnish
• 1 c steamed jasmine rice for serving (optional)
Instructions
In a medium pot, simmer the chicken thighs in the chicken stock for about 15 minutes, loosely covered, until the chicken is fork tender.
Add the coconut milk, lemongrass, galangal, kaffir lime leaves, Thai chilies, fish sauce and palm sugar. Simmer for three to five minutes.
Next, add the mushrooms and cook for a few more minutes. Remove from the heat and stir in lime juice. Taste and adjust the seasoning with more fish sauce and/or lime juice if needed. Remove chilis, galangal and lime leaves.
Scoop 1/4c of rice into each bowl. Pour soup into bowl and top with cilantro and green onions.
Notes
Make sure that you keep the chillies, galangal and lime leaves big enough that they are easy to pull out once they have infused the soup.
Courses Main Dish
Cuisine Thai