A fresh, rich meaty pasta sauce that doesn't simmer all day is commonly called "Weeknight Bolognese".
I'm in love with this sauce.  The whole family is in love with this sauce.  Any of you with *sometimes* fickle kids knows how great it feels when you make a meal that everyone loves.  This is one of them, and it's been in our regular rotation for about 6 months.
What makes this meal amazing IMO is the amount of vegetables compared to meat used to make the sauce.  It presents as a meat sauce, but the meat is actually mulched up with mushrooms – about 50/50.
Mixing ground beef with another element like mushrooms is a technique used to prevent meat from getting tough when it doesn't have time to simmer all day.  It works.
If you have a food processor, this is pretty quick and easy to make.  Don't be fooled by the name, though. It still requires about 40 mins of cooking/simmering time, so this isn't a meal that you are going to get on the table in 30 minutes or less.
I adapted this recipe from J. Kenji Lopez-Alt's The Food Lab – Better Home Cooking Through Science.  If you enjoy understanding the whys and hows of making great tasting food, I totally recommend it.
*FICKLE FAMILY TIP*  This time it's me who's being fickle! I make this dish with Brown Rice Pasta.  We are by no means a gluten free family, but I do like to use healthier alternatives when I can.  No one cared.  No one even noticed!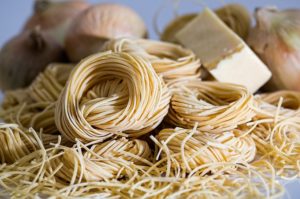 Print
Weeknight Bolognese
Yield 4
A great pasta dish for the whole family
Ingredients
1 small onion, carrot and celery, cut into 4 chunks
2 cloves garlic
1 t oregano
1/4 t hot pepper flakes
8 large mushrooms
5 oz ground beef
1 link hot Italian sausage
2 T olive oil
2 T butter
3 T tomato paste
28 oz can diced tomatoes with juices
1 T Asian fish sauce
2 t soy sauce
1/3 c Parmesan cheese (plus more for serving)
1 lb penne or spaghetti
chopped parsley or basil for garnish
Instructions
Put onion, carrot, celery, garlic, oregano and red pepper flakes into a food processor and pulse 10 times - you want the mixture to be a fine chop, not a puree. Transfer to a bowl.
Put mushrooms in food processor and pulse about 6-8 times. Add in ground beef and sausage and pulse until combined, about 8 more pulses.
Heat butter and oil in a dutch oven, heavy pot or pan (I like to use my Creuset).
Saute vegetable mixture for about 5 mins. Stir often and don't let brown.
Add paste and soy sauce and mix well for about 1 minute.
Add in mushroom and meat mixture and cook for about 10 minutes until liquid is evaporated and meat starts to sizzle.
Add the tomatoes and juices and simmer, uncovered for another 30 minutes.
Add in fish sauce and parmesan and season with salt and pepper to taste.
While sauce is cooking, make pasta according to package directions.
Divide pasta among 4 plates, top with sauce and sprinkle with parmesan and fresh herbs.
Notes
You can use any type of pasta for this dish. Dried or fresh, tubes or long, brown rice, gluten free, quinoa. I've even had it with spiralized zucchini instead of spaghetti.
Courses Main Dish
Cuisine Italian