Welcome to October, also known as Birthday Cake Month in my house! We have four birthdays in the family in October (including my own!), and at least two of the four are absolute chocolate fanatics. It's not surprising that Chocolate Crazy Cake usually makes a few appearances during the month.  And it ALWAYS  gets rave reviews.  Skip to Recipe
BTW, I have a crazy birthday tradition.  I always insist on baking my own birthday cake. Is that weird? This month I am torn between trying something new (like these mini chocolate peanut butter pies by Carlsbad Cravings) or whipping up my all time favourite Chocolate Crazy Cake and experimenting with an Almond Butter Frosting.  Hmmmm…..dilemmas!
Back to the cake…This recipe has been around forever.  Chocolate Crazy Cake is also called Depression Cake or Whacky Cake due to it's simple and relatively cheap ingredients.  It was brought into our family by my sister's mother in law many years ago, and it is hands down the best, most delicious and simple chocolate cake you will ever make.
You can dress it up with icing and toppings or dress it down with a simple dusting of powdered sugar.  My favourite is to frost it with a rich, chocolate icing; however a vanilla buttercream sprinkled with crushed Skor Bar is also always a hit.  It is egg free and dairy free, and I always have the ingredients in my pantry. You probably do too. And for those of you who don't share the same "make your own Chocolate Crazy Cake" birthday tradition, it is so simple that even young kids can make it on their own. Better than Easy Bake! Save this recipe – you won't be disappointed.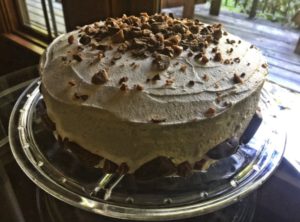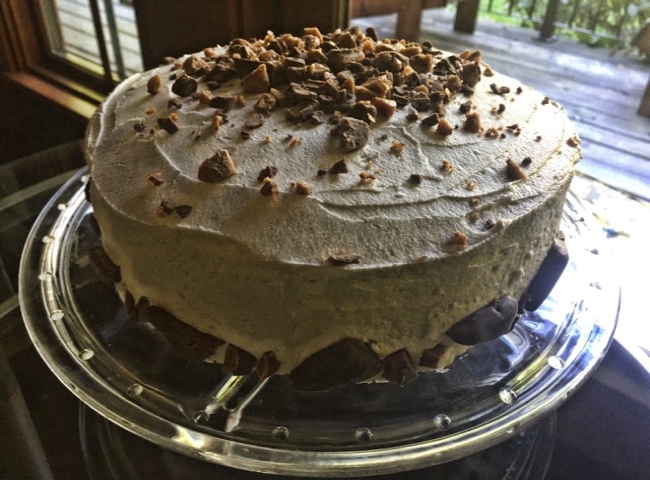 Print
Chocolate Crazy Cake
Yield 2 8.5 inch round cakes
Chocolate Crazy Cake is an incredibly delicious yet easy to make cake. Egg and dairy free, it is moist, rich and sure to please for every occasion.
Ingredients
Chocolate Crazy Cake
3 cups flour
2 cups sugar
2 tsp baking soda
1 tsp salt
6 tbsp cocoa powder (I use Frye's)
2 tsp vanilla
2 tbsp white vinegar
3/4 cup vegetable oil
2 cups of water (room temperature)
Death by Chocolate Icing
1 cup butter, softened
3 cups confectioners (powdered) sugar, SIFTED
1/4 tsp salt
 1 tbsp vanilla extract
 2.5 tbsp milk
1/2 c cocoa powder
1 tsp expresso or strong coffee (optional)
Classic Vanilla Buttercream Frosting
1 cup butter, softened
3-4 cups confectioners (powdered) sugar, SIFTED
1/4 tsp salt
1 tbsp vanilla extract
3-4 tbsp milk
Instructions
Preheat oven to 350°F and lightly grease and flour 2 round 8" pans
In a large bowl, whisk all the dry ingredients together.
Smooth the top and make 3 indentations (2 big, 1 small).
In each indentation add the vanilla, vinegar and oil.
Pour over the water and whisk until smooth.
Bake for 25 - 30 minutes, or until an inserted toothpick comes out clean.
Icing
Prepare the icing by combining all of the ingredients except milk.  
Gradually add milk until desired consistency is reached.
Notes
This recipe also makes 24 cupcakes or one 9x13" rectangular cake.  Baking time needs to be adjusted.  For regular sized cupcakes, back for 15-20 mins.  For 9x13, bake for 30-40 mins.
Courses Dessert
SaveSave
SaveSave
SaveSave