Last week our Cooking Club got together for the first gathering of 2018.  And with the new year comes a new round of Cooking Club Themes – Cookbook Reviews!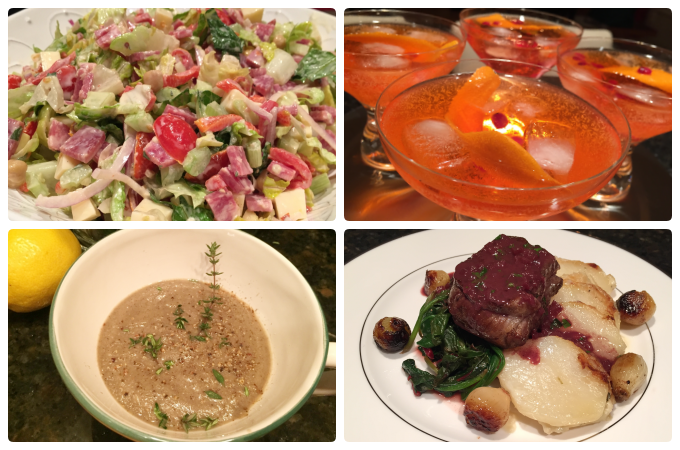 The chosen book for this month's gathering was The Food Lab: Better Home Cooking Through Science
by J. Kenji Lopez-Alt.  If you have spent any time at all searching for recipes online, you have probably heard about the website Serious Eats, a site dedicated to definitive recipes, the food science behind the recipes, and an explanation of the cooking techniques used to achieve the best results. Lopez-Alt is the Chief Culinary Consultant at Serious Eats, and The Food Lab is his "on paper" collection of recipes, techniques and how to's that is a must have for any home cook searching for explanations as to why things turn out the way they do.
This was our Menu:
Aperol Spritz with Orange and Pomegranate Seeds
Roasted Cauliflower Bites with Raisin, Pine Nut and Caper Vinaigrette   <Recipe>
Creamy Mushroom Soup
Italian Antipasti Salad
Sous Vide Steak with a Simple Red Wine Pan Sauce, Cheesy Hasselback Potato Gratin, Garlicky Sautéed Swiss Chard and Glazed Pearl Onions
Joey's Apple Cake from Whitewater Cooks (Kenji just isn't in to doing sweets any more!)
It was an absolute feast! An indulgence in amazing food and delicious wine. All January "clean livin" resolutions were put on hold as we threw on the stretchy pants and grabbed a bottle of wine to share.
Results:
While none of the dishes were overly unique or original, every single recipe turned out really good. Roasted cauliflower bites and a version of an Aperol Spritz started the evening. The mushroom soup was super flavorful, and if you like mushrooms, it's a must try. The antipasto salad was delicious, although we reduced the amount of onions and dressing that the recipe called for. Small knife cuts making all the pieces similar in size to the chick peas also helped make this delicious by ensuring a good combination of tastes in every bite.
As for the main course, using a Sous Vide circulator to cook the strip loin medallions helped ensure a perfect doneness for each person (1 medium rare and 3 mediums). If you are not familiar about this cooking technique, Lopez-Alt explains it well here. Next time, however, I would stick to a rib eye steak for more flavour. We all agreed that the steak was just fine. The side dishes were all very simple and delicious, and the pan sauce was a rich and delicious compliment to the entire plate.
I have to say that the highlight of the meal for me was the appetizer – Roasted Cauliflower Bites with Pine Nuts, Raisins and Capers. Lately I have been making an effort to make more plant-based dishes, and one of my pet peeves is filling up on an appetizer before the main course comes out. So for our cooking club night, I was determined to keep it light, and the extensive section in the Food Lab on vegetables had a few options to choose from. The unique vinaigrette drew me to this one.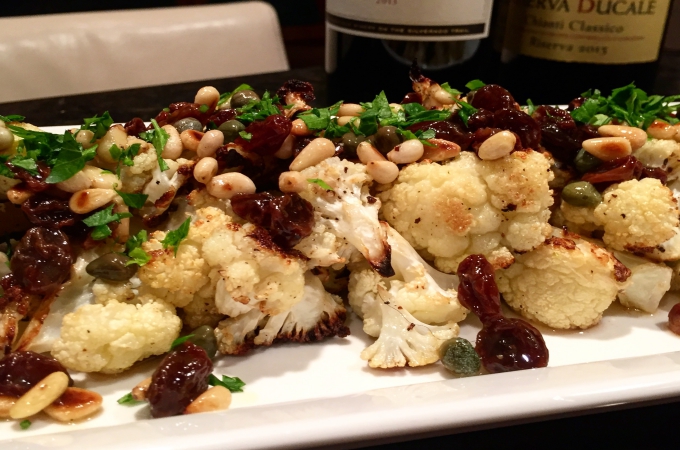 The high heat roasting of the cauliflower slightly caramelized the florets, and the combination of the salty capers, crunchy and nutty pine nuts and sweet raisins was divine. I made a few tweaks to the recipe such as cutting the florets into bite sized pieces, soaking the raisins to plump them up, and making the vinaigrette with apple cider vinegar instead of sherry vinegar because it was what I had on hand, and was super happy with this side dish turned appetizer.
---
If you are looking for some lighter, plant-based appetizer ideas, look no further than the vegetable section of your favourite cookbook. Serving vegetables as an appetizer can still be gorgeous and full of flavour, but typically won't fill you up as quickly as, say, a meat, cheese and bread dish would.
---
Overall, the evening was a great culinary success without a single dud!
What we like about the book
Exhaustedly tested recipes.
Scientifically proven techniques and tips for achieving the best flavour and textures.
Answers the question "why".
What was missing
Recipes are basic; it's not really the book to go to get new inspiration in the kitchen.
Even though recipes are often better, they are not more simple; they often call for a long list of ingredients, all with a specific purpose.
The Food Lab: Better Home Cooking Through Science
delivered what it promised, and we all gave this book a thumbs up. Albeit some of the recipes are pretty basic, the proven tips and techniques for cooking specific things make for a great resource to have on hand.  As for the roasted cauliflower bites? They have secured a spot on my regular appetizer rotation.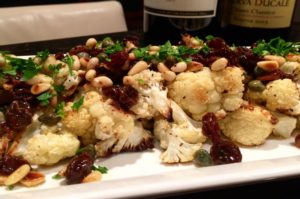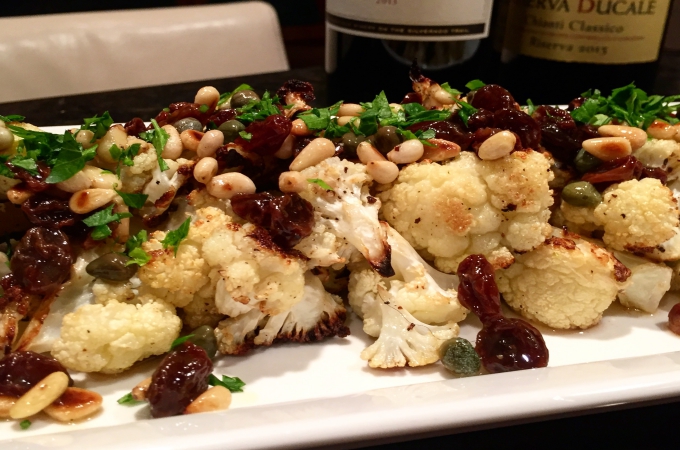 Print
Roasted Cauliflower Bites with Pine Nut, Caper and Raisin Vinaigrette
Yield 4 servings
This recipe is very slightly adapted from The Food Lab by J. Kenji Lopez-Alt.  If you are looking for some lighter, plant-based appetizer ideas, look no further than the vegetable section of your favourite cookbook. Slightly caramelized with the high heat roasting, the cauliflower matches perfectly with the salty capers, crunchy pine nuts and sweet raisins in this vinaigrette.
Ingredients
1 large head of cauliflower, broken up into bite sized pieces
6 tbsp extra virgin olive oil, divided into 3 tbsp each
1 tbsp sherry vinegar (apple cider or  red wine vinegar can be used instead)
1 tbsp honey
2 tbsp capers, drained
1/4 c pine nuts, toasted
1/4 c raisins, soaked
2 tbsp fresh parsley, roughly chopped
salt and pepper
Instructions
Place a rimmed baking tray in the middle rack of the oven and preheat to 500° F.
Soak the raisins in hot water for about 10 minutes, or until slightly plump. Drain and set aside.
Toss the cauliflower with 3 tbsp of oil and season generously with some salt and pepper.
Once oven reaches temperature, remove the baking tray and carefully transfer the cauliflower on to the tray. It should sizzle right away.
Roast until the cauliflower is soft and nicely browned, about 18-20 minutes, flipping halfway through.
Meanwhile, combine the drained raisins, toasted pine nuts, capers, remaining 3 tbsp of olive oil, vinegar and honey in a bowl.  Season with a pinch of salt and some pepper (to taste).
Transfer the cauliflower to a serving platter and drizzle dressing over top.  Garnish with chopped parsley and serve with side plates and a fork to maximize the flavours together.  Or, you can also serve with toothpicks and napkins for a stand up affair.
Courses Appetizer
Cuisine North American
SaveSave
SaveSave
SaveSave
SaveSave
SaveSave
SaveSave
SaveSave