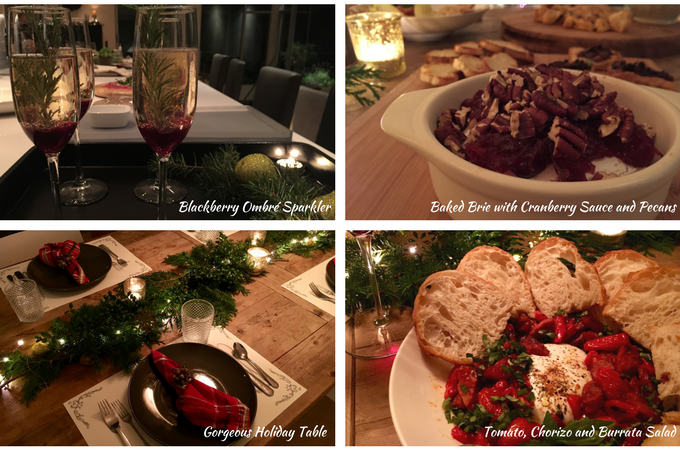 A few weeks ago our cooking club got together for our fall gathering. The theme was timely – Holiday Appetizers. I don't know about you, but wow, do I ever struggle with choosing what to make. It's not as if there is a shortage of recipes or food inspiration online. There's way too much!! And they all look amazing!! It's like putting Carrie Bradshaw in a shoe store and asking her to pick just one pair. Just sayin…..
But the recipes that you find online are not always amazing. Some end up looking great, but flavour-wise, end up rather "meh". And who has the time to waste on a "meh" dish? Not me.
That's why our group chose the appetizer theme.  Between the four of us we could vet a lot of recipes, and in one night, we could experience eight or more dishes with the goal of walking away with a few more aces in our back pocket.
Let me tell you, I was blown away by the spread that was put out. These lovely ladies have a knack for finding GREAT recipes. The ones that not only look amazing, but have that extra bit of "wow" in flavour. My kind of recipes.
So now it's time for my public service. I've gathered the photos and the recipe links all in one place.  If you are looking for some holiday appetizers to make for company, or to bring to a gathering sometime soon, here are 10 gorgeous tried and true dishes plus one fancy cocktail for you to try.
To Start…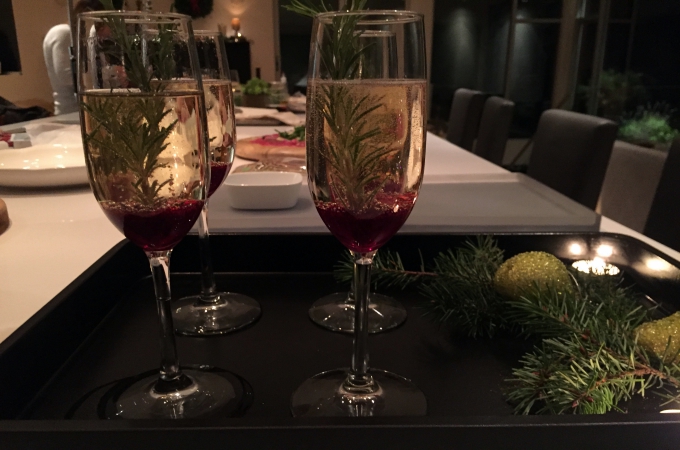 Blackberry Ombre Sparkler
Nothing sets the tone for a sparkly evening like a champagne cocktail. A simplified version of Effortlessly Chic's version, this recipe came from The Cookie Rookie and combines a blackberry simple syrup with some sparkling wine and a sprig of rosemary for a holiday red and green touch.
Get the recipe for Blacberry Ombre Sparkler <<
Cheese….Oh the Cheese!
Baked Goat Cheese on Beet "Carpaccio"
An elegant appetizer of goat cheese coated in hazelnuts, thyme and lemon zest, served on top of thinly sliced beets, and drizzled with a warm honey vinaigrette. I first learned how to make this at my cooking school a few years ago, and have made it a few times since. The two things that I love about this dish are that it looks super elegant and festive, and all the components can be made a few days in advance. Bake and assemble before serving. It's also delicious served at room temperature – another bonus point for a holiday appetizer!
Get the recipe for Baked Goat Cheese on Beet Carpaccio here <<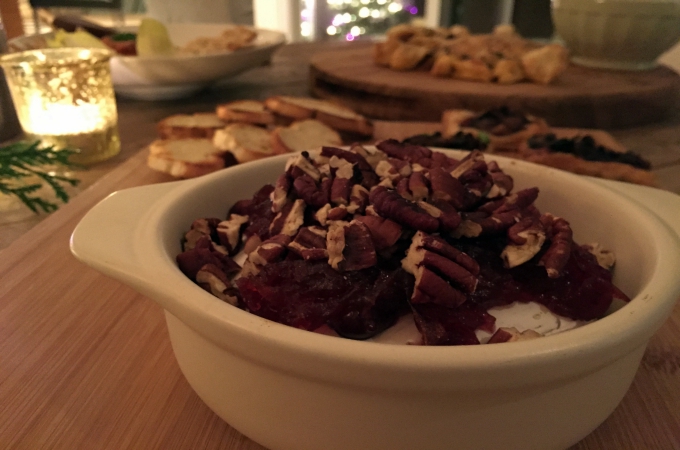 Baked Brie with Cranberry Sauce and Toasted Pecans
This is one of the most simple yet delicious holiday appetizers to make in a pinch. Simply place brie in a small baking dish or parchment lined baking sheet, spoon over a topping such as left over cranberry sauce, sprinkle with some toasted nuts and bake at 350° for about 10-12 minutes. Serve with sliced baguette, crostini or crackers.  It doesn't get easier than this!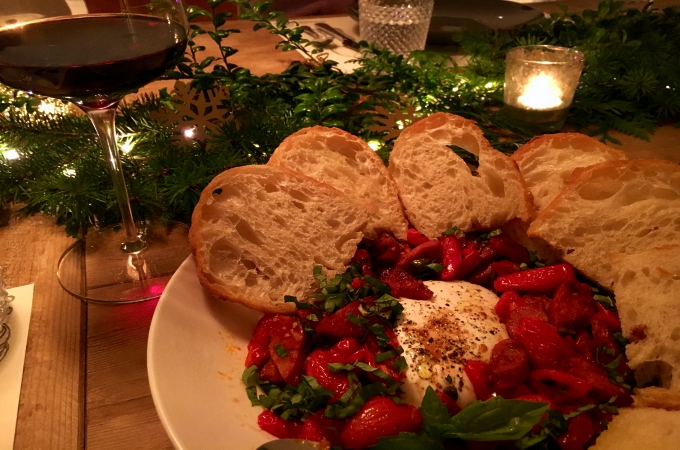 Heirloom Tomato, Chorizo and Burrata Salad
Silky smooth Burrata cheese combined with the juicy and sweet tomatoes, salty capers and a mildly spicy sausage produces an elegant, beautiful and flavourful appetizer suitable for any time of year. This amazing recipe was developed originally by Chantelle Grady, and the full recipe can be found on Some Kitchen Stories. This recipe was also the inspiration for the summer version – Heirloom Tomatoes with Peaches, Burrata and Basil.
Get the recipe for Heirloom Tomato, Chorizo and Burrata Salad here <<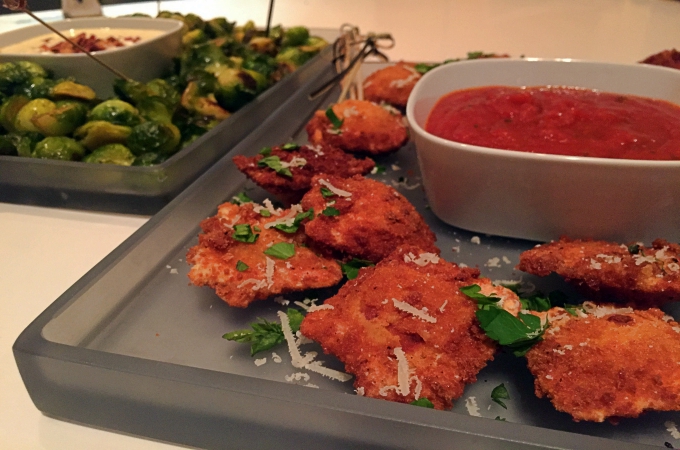 Fried Cheese Ravioli

Hands down this was the kid favourite of the night! Cheese ravioli shallow fried and then served with a punchy marinara. 'Nough said…Simply pick up your favourite cheese ravioli and sauce from the grocery store and off you go.  Full recipe can be found here on Delish.com.
Get the recipe for Fried Cheese Ravioli here <<
Smoked Salmon, of course!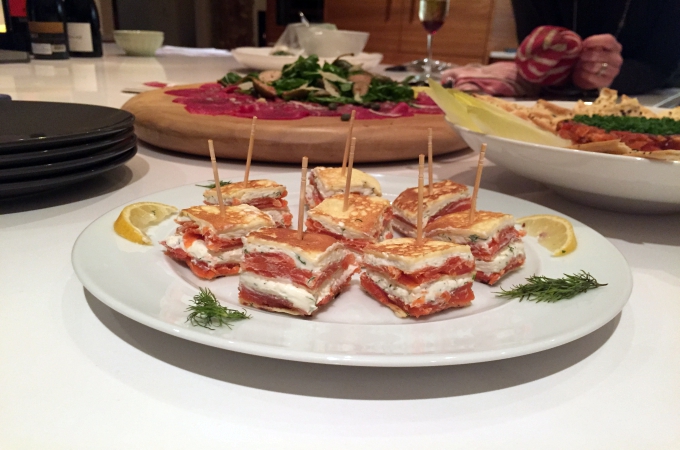 Smoked Salmon Appetizer Bites
Developed by Nagi at Recipe Tin Eats, what appealed to me about this choice was that it could be made ahead of time and set out on a buffet or potluck table cold or at room temperature. You can hit the easy button and make this dish with regular store bought tortillas, or step it up a notch with some homemade savoury crepes. Served as is, it was a nice appetizer, however topping it with a caper dill relish made it outstanding!
Get the recipe for Smoked Salmon Appetizer Bites here <<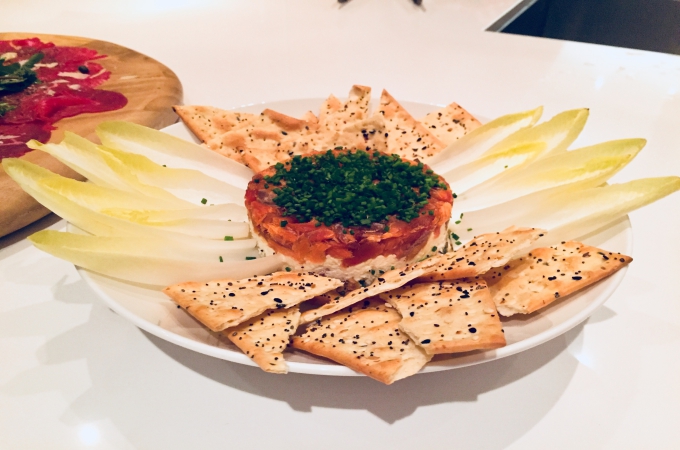 Smoked Salmon 7-Layer Dip
This is a great Pacific Northwest take on the traditional Mexican 7 Layer Dip. The recipe from Bon Appetit calls for hot smoked salmon as opposed to lox style. The texture of a hot smoked salmon is similar to ordinary cooked salmon, and it's often sold in larger chunks as opposed to thin slices. My favourite part about this dip was how well it went with the endive leaves. I'm always looking for alternatives to breads and crackers for my holiday appetizers, and this recipe fit the bill.
Get the recipe for Smoked Salmon 7-Layer Dip here <<
Puffy Puff Pastry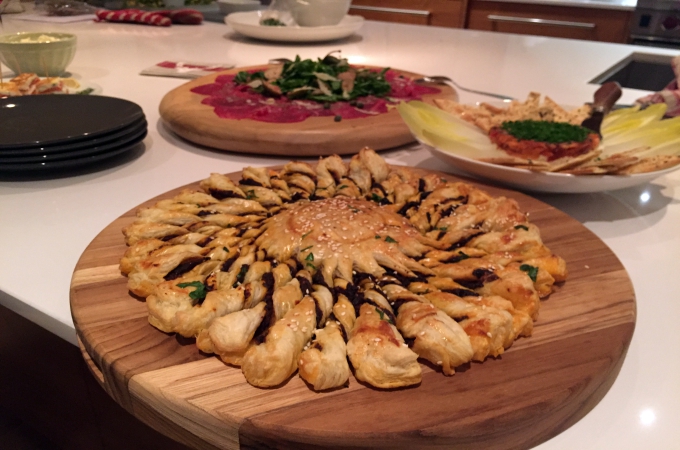 Feta Tapenade Tarte Soleil
An artful and drool-worthy display, this recipe comes from Smitten Kitchen and can be adapted easily with the filling of your choice. We haven't tried making it too far in advance, but I suspect it could be made earlier in the day and baked right before serving. Note that it tastes best fresh out of the oven, and rumour has it that nutella makes an amazing filling as well! Can you say hello Christmas morning??
Get the recipe for Feta Tapenade Tarte Soleil here <<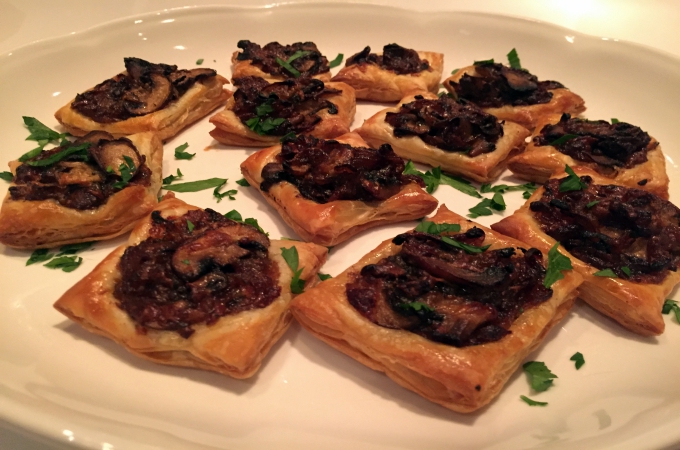 Gruyere, Mushroom and Caramelized Onion Bites
Confession time – I have been making this filling regularly since Heather introduced me to this recipe from the Little Spice Jar.  Sautéed mushrooms, caramelized onions, gruyere cheese and a little balsamic vinegar – what's not to love? I've had it on toast, in an omelet, on some greens, plain out of a bowl……it's incredibly more-ish! And of course, it is delicious on top of puff pastry and makes a great bite size platter to serve at a party.
Get the recipe for Gruyere, Mushroom and Caramelized Onion Bites here <<
Finally…No Cheese Nor Bread!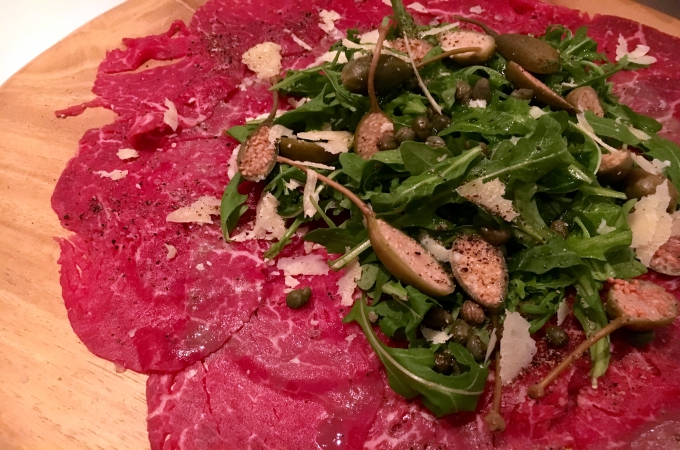 Beef Carpaccio with Arugula and Caper Berries
Get to know your butcher and ask for a plate of high quality beef carpaccio. Top with some capers, caper berries, arugula, parmesan slivers and a drizzle of extra virgin olive oil and you have yourself an elegant, gluten free presentation. You can serve with bread or crackers, but scooped up by hand and eaten on it's own was absolutely divine.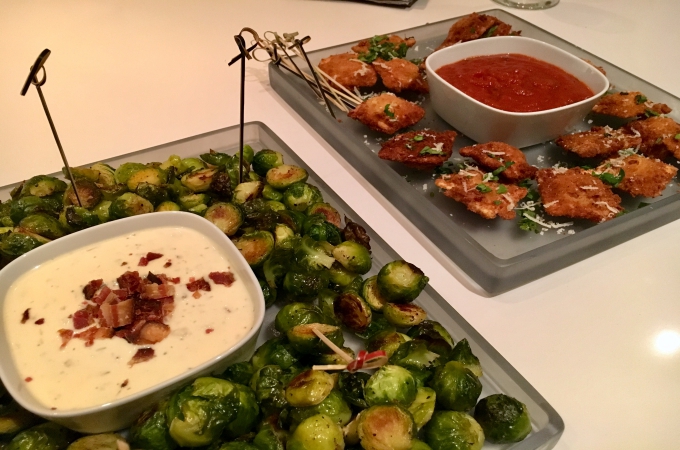 Roasted Brussel Sprouts with Garlic Bacon Aioli
This was hands down one of the most well received holiday appetizers of the evening. After filling ourselves with puff pastry and cheese, it was amazing to have some vegetables to graze on! Super popular as an appetizer in many restaurants, why not bring out a platter for a party? Perfectly roasted and served with toothpicks and a glorious bacon aioli, this recipe from the Real Food Dieticians will be for sure on my appetizer rotation from now on.
Get the recipe for Roasted Brussel Sprouts with Garlic Bacon Aioli here <<
---
So which one of these holiday appetizers is your favourites? Be sure to share or pin this post using the buttons at the top of the page for when you need some inspiration for a tried and true guest worthy appetizer or potluck dish.
Thinking about forming a Cooking Club?
Keep your Recipes Organized by using Pinterest
Like this post?  Be sure to follow me on Facebook or Instagram to see what the Cooking Club Girls come up with next!
---
SaveSave
SaveSave
SaveSave
SaveSave
SaveSave
SaveSave
SaveSave
SaveSave
SaveSave
SaveSave
SaveSave