If you are looking for an elegant appetizer, look no further than this Baked Goat Cheese and Beet Carpaccio. It's really quite simple. Assemble a plate of goat cheese rolled in hazelnuts, thyme and lemon zest, and serve it on top of thinly sliced beets.   A drizzle of a warm honey vinaigrette, a few microgreens, and voila! An appetizer that is sure to impress.
Get the recipe for Baked Goat Cheese and Beet Carpaccio
I first learned how to make this at my cooking school back in July 2016, and have been making it for special occasions ever since. It looks incredibly elegant, but is super simple as all of the components can be made in advance. Just bake and assemble before serving. It can be served at room temperature as well.
For more great holiday appetizer ideas visit 10 Top Notch Holiday Appetizers from the Cooking Club Girls.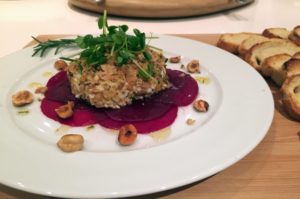 Print
Baked Goat Cheese and Beet Carpaccio
Yield 6-8 Servings
This is a dish that I was introduced to at cooking school as a lesson in a variety of concepts such as infusions, reductions and composition. It was also a good example of how many dishes or components of dishes can be made a day or two in advance and then simply assembled before serving.
The following recipe is more of a guideline - use your instincts and feel free to play with the presentation, adding more or less garnish as you see fit.
Ingredients
120g goat cheese
zest of 1 lemon
1 tsp fresh thyme
1/4 cup whole hazelnuts
1 beet (medium), cooked and thinly sliced using a knife or mandolin
1/4 cup microgreens, or similar green garnish like peashoots or baby arugula
1 baguette, toasted and sliced
Vinaigrette
2 tbsp honey
2 tbsp water
1 spring of rosemary, chopped
6 peppercorns
1 tsp orange zest or lavender flowers
pinch of salt and pepper
1 tbsp fresh lemon juice
2 tbsp olive oil
Instructions
Prepare the Cheese:
Preheat oven to 350°.
Toast nuts until golden and fragrant, roughly 10 minutes.
Remove skins by gathering the nuts in a tea towel and rubbing them together.
Roughly chop, reserving about 4 nuts for garnish.
Mix/chop together the lemon zest, thyme and chopped hazelnuts.
With wet hands, form the goat cheese into a ball and then roll in the chopped coating.
Wrap tightly in saran wrap and chill in the fridge until ready to serve.
Make Vinaigrette:
Combine honey, water, peppercorns and herbs in a small saucepan.  Simmer for about 10 minutes to infuse the flavours and reduce the liquid to a honey like consistency (**look for big bubbles).  
Remove from heat. Remove peppercorns and whisk in the lemon juice and olive oil.
Make the Crostini:
Slice baguette and spread a thin layer of butter or oil on one side. Watching carefully, broil the slices to toast, approximately 30 sec to one minute per side. DO NOT WALK AWAY - bread burns easily on broil!!
To Serve:
Preheat oven to 350°.
Place cheese on parchment paper on a baking dish and bake for 10 minutes.
Arranged cooked, sliced beets in a circle about one inch wider in diameter than the cheese.
Lightly brush the beets with some vinaigrette.
Place the cheese ball on top of the beets and top with the microgreens.
Chop the reserved whole toasted hazelnuts in half and scatter them around the plate.
Generously drizzle with the vinaigrette.
Serve with the crostini on the side.
Notes
Cook the beet in advance.  I like to do this using my pressure cooker (26 minutes on high pressure, quick release), but you can also roast in the oven until just cooked. The amount of time this will take can vary greatly depending on the size of the beets and how fresh they are.  I roast them at 400° and check for doneness at around 30-40 minutes.
Courses Appetizer
Cuisine North American
SaveSave